4 minutes
Summary
A tornado ravaged their campground and turned plans for a family business upside down but the Malanga's treasure of Faith triumphed over the disaster.

As all grownups know, we sometimes walk through the darkness before we find the light.

In May of 2005, David and Daria Malanga and their four children moved from New Jersey to the Finger Lakes district in New York State. There they had purchased a campground containing 60 sites, and though the campground needed major repairs, they were happy at last to find a business they could operate as a family. They rented a small, rundown house, whose chief source of heat was a wood stove, and set about upgrading the campground.
Disaster Strikes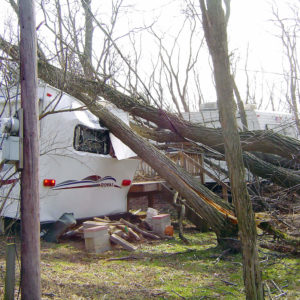 The following February, after a rare warm spell brought a thaw to the normally frozen earth, a tornado crashed through the campground. Many trees came down and caused others to hang precariously over many camper trailers.
(Some observers believed the tornado was more simply wind shear, but as one neighbor near the site commented to Daria: "I know what a freight train sounds like, and that was a tornado.")
The homeschooling family set to work repairing the site. Dave labored from sunrise to sunset, moving trailers to safety, cutting down trees, and hauling away wood.
Daria taught the children at home, and then drove with them in the afternoons to the campground, where everyone pitched in to help restore the property.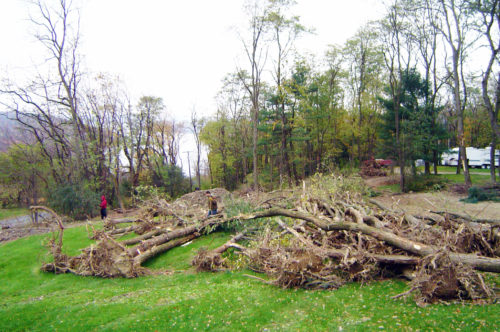 Though they were able to open the following May, they soon decided to close the campground and build four rental cabins on the property. As Daria says, "We wanted to make it into a place where we would really want to stay if we were guests."
In the meantime, in 2007 Daria returned to work as a full-time nurse to help the family meet its financial obligations.
Dave, who had previously worked in the building trades in New Jersey, homeschooled their two children still at home, renovated and operated Bluff Point, and eventually began building a house for the family on the property.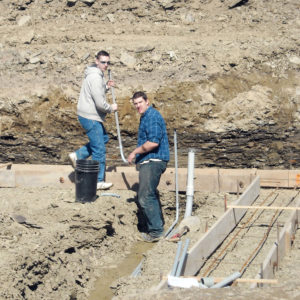 In 2013, the day before the family was to move into the new house, Dave suffered a heart attack. With the help of Mercy Flight, Daria got him to a hospital, where he was successfully treated. The following week, Jim, their son-in-law, and their sons moved everything into the new house.
Another trial came to the Malangas in 2016, when doctors diagnosed Daria with breast cancer. She left nursing, fought off the cancer, and now helps operate the family business.
Such struggles with health and finance, plus the ordinary trials of daily living, can bring tension and anxiety to a family. "The Enemy doesn't want families to stay together," Daria says. "A happy family is not a guarantee all the time, even for homeschoolers." She then adds a formula of hope that worked for the Malangas:
"Never give up. Pray for fortitude. Do the best you can, and God will take care of you."
That Daria Malanga practices what she preaches can be seen in her children.
Elise was enrolled in public school through fourth grade.
Dissatisfied with the response of the school to a situation where a classmate was terrorizing both teachers and students with his violent behavior, Daria and Dave withdrew their daughter from the school and enrolled with Seton.
Elise graduated from Seton in 2005, earned a degree from Cornell University in animal husbandry, and now lives in Prattsburgh, New York, where she, Jim, and their four children—a fifth is soon expected—operate Rosy Hill Family Farm.
A Continuing Series of Graduations
Joseph graduated from Seton in 2008 and went on to earn his degree in electrical engineering from the prestigious Rochester Institute of Technology, graduating summa cum laude.
While at Seton, he met another Seton student, Tracy, on the message board. He later attended a gathering of online Seton friends in Texas, where he met Tracy for the first time in person.
Eventually, Joseph and Tracy married. They now live in Texas, where Joseph works at Raytheon, and have three children. The last, a baby girl, decided to sprint into the world, and so was delivered by Joseph in the hospital parking lot.
David was enrolled with Seton from kindergarten until graduation. After getting his degree in 2008, David took the path of his brother Joseph and enrolled at Rochester.
There he graduated summa cum laude with his BS/MS degree also in Electric Engineering. Today he works for the Syracuse Research Corporation in Syracuse, New York as a digital engineer.
Following a now-established pattern, the youngest of the Malanga family, Gregory, headed off to Rochester, where like his brothers he graduated summa cum laude in Electrical Engineering. Like David, he works for SRC in Syracuse.
Of Seton's influence on her children, Daria says "My kids didn't always like Seton, but they appreciate it now, particularly in regard to writing."
All three boys, she explains, were given positions as paid teaching assistants at RIT, where they were shocked by how many of their classmates "could hardly put a sentence together."
In regard to homeschooling in general, Daria says that her children "learned how to learn and to question things. They are independent and not afraid to go against the flow."
Daria credits her faith for getting her through adversity and in teaching her children. "When life was hard, I would sit in front of a crucifix in my home and pray for fortitude. Talking to Jesus was a huge help for me."
The Malanga's formal homeschooling journey ended with Gregory's graduation from Seton, but they remain strong supporters of home education.
Just this year Elise has begun homeschooling her oldest child. When asked if she had any advice she might pass on to Seton families currently homeschooling, Daria thought for a moment and then said:
"We have treasures in our Catholic faith, and if we tie into those treasures, they will help us through the dark places."
Today Bluff Point of View, their business, offers its guests cozy cabins and a reception center with recreational and laundry facilities for guests, and a room where the Malangas serve a continental breakfast.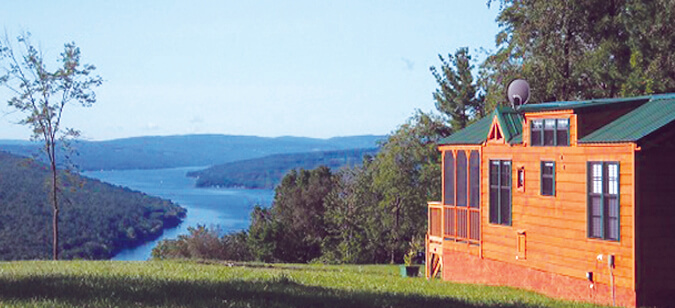 To take a look at the cabins and the beautiful country surrounding it, you may visit www.bluffpointofview.com.
Seton Graduates: Prepared for Success
Seton students interested in STEM fields (Science, Technology, Engineering, Mathematics) should take heart from this story about the Malangas and many other graduates featured in the Seton Magazine over the years.
Many Seton students have gone on to universities and colleges to earn degrees in engineering, medicine, computer sciences, and other areas of study.
Other Seton students have opted to learn a craft and enter the trades.See Guidance Counselor Nick Marmalejo's article: Considering A Trade.
As most of us know, America lacks an adequate number of electricians, plumbers, mechanics, and others skilled in the manual arts, skills not only in demand but with good wages. Seton graduates are prepared for the rigors of learning a trade.
In addition to acquiring the knowledge and training necessary to commence their areas of study, Seton graduates can enter on these endeavors confident in their writing and speaking skills.
All Seton lessons in grammar and essays hone these abilities in Seton students, meaning they enter institutions like Cornell and the Rochester Institute of Technology being fully prepared for classes of all kinds.