Author Bio and Books
Author Bio and Books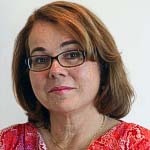 Ginny Seuffert has been a leading writer and speaker about homeschooling and Catholic family life for more than two decades. She has given hundreds of talks at Catholic Homeschooling Conferences and has written scores of articles on everything from discipline to home management. She is a founding member of the Illinois Association of Roman Catholic Home Educators, helped establish the "Round Table" (a Catholic home school leadership discussion group), and became a founder and officer of the Catholic Home School Network of America.
Ginny writes the column Ginny's Gems.
Below is a list of her articles, the most recent first.