2 minutes
Seton Home Study School is pleased to announce that the Commencement Speaker for our 2015 High School graduation will be Katie Heenan Dodson.
Katie is a two-time U.S. National Champion gymnast and a World Championship medalist. At the University of Georgia, Katie won two Southeast Conference all-around championships.
In 2008, Katie won the Honda Award as the nation's top female gymnast. Katie was homeschooled for high school and is a 2004 graduate of Seton Home Study School.
News about Seton's 2015 Graduation
A few years ago, Katie wrote this for the Seton Newsletter: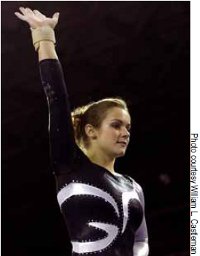 My name is Katie Heenan Dodson and I am a proud graduate of Seton Home Study School. I am also a former gymnast and considered to be very accomplished, but accomplishments do not just happen. Of course, hard work, dedication, perseverance, patience, and a lot of other attributes are necessary, but a support system is also important. I can honestly say that without Seton Home Study, I would not have made it as far as an athlete.
I grew up all over, with my gymnastics career starting in Knoxville, Tennessee, then being groomed in Parsippany, New Jersey, and finally being polished, nurtured, and brought to my full potential in Burke, Virginia. I am one of four children and the only girl in the mix.
My brothers, Danny, David, and Robby weren't always the happiest that my sport took up so much time, but at the end of the day, I think they were very proud of me, for which I am thankful. At the peak of my career, I was training thirty-six hours a week and traveling almost weekly around the country, and sometimes the world. Needless to say, I was very busy for a fifteen-year-old and school did not "fit" into my schedule.
Seton Home Study School came onto our radar at the perfect time. I was competing for the National Team which recently made it a requirement to come to training camp twice a month in Texas. I was competing in gymnastics meets at least once a month as far away as Germany, and the school system where I lived did not want to work with my family. They were reluctant to exempt me from P.E. class, even though I could show records of my physical activity, and my teachers were putting a lot of pressure on me to be in class.
So after struggling for a semester in high school, my parents, coaches, and I decided it would be best to try home schooling. My parents made the decision that a firm Catholic-based home school would be best for my education. I sincerely thank them for this decision.
When you are fifteen and preoccupied with lots of distractions, you don't always appreciate or understand the choices and decisions your parents make. Now that I am on the verge of being twenty-five years old, I am so thankful they chose Seton Home School for me. Seton provided the flexibility I needed with my schooling so I could travel and concentrate on gymnastics.
What I realize even more today is that I truly learned so much with Seton. It was challenging and rigorous, but it readied me for college and life in general—not only intellectually and through self-discipline, but most importantly, I grew spiritually in faith. Having a strong moral background, and the education to back it up, are the tools God intended us to have in order to survive this world, I feel. Seton provided just those tools.
I graduated from Seton in 2004 and went on to the University of Georgia on a full scholarship for gymnastics. While at the University of Georgia, I won four National Championships, three conference championships, thirteen All-American honors, was the 2008 Honda Award winner (as top female collegiate gymnast), became Georgia's all time leading scorer, and many other honors.
My gymnastics career ended in 2008. I studied and graduated with a degree in education specializing in middle school education with concentrations in language arts and social studies. I graduated in 2009 with cum laude honors.
I am now married to Stephen Dodson who plays for the Colorado Rockies minor league system, and who hopes to play one day in the major leagues. We have a son, Charlie Dodson, who is ten months old. Right now we call home Norcross, Georgia, but we are moving around a lot due to my husband's profession.
I am enjoying being a full time mother and supporting my husband. Seton Home Study School helped me to achieve my goals academically and athletically, and now to raise my family and be a loving wife and mother.