6 minutes
February can be the worst month for a homeschooling mom. I've written about it frequently over the years on my personal blog, in news articles and magazine features.
One might conclude that I am sometimes slightly whiny about it.
February, the shortest month, never seems to go quickly. It's dark and cold in most parts of the country and you might still be dealing with the let-down of the Christmas season being over.
It's the month many moms just strive to "get through" waiting for spring and its accompanying fair weather and hopefulness.
This year a good deal of February is given over to Lent, so there is all the sacrificing and extra penance to endure as well.
Fortunately Holy Mother Church provides us with some relief in her liturgical calendar, and there are plenty of saints to learn about and celebrate and some lovely traditions to bring into your home.
Here's the list:
February 1 – St. Brigid of Ireland
February 2 – The Presentation of the Lord
February 3 – St. Blaise
February 5 – St. Agatha
February 6 – St. Paul Miki and Companions
February 8 – St. Josephine Bakhita
February 9 – Shrove Tuesday
February 10 – Ash Wednesday/Holy Twins
February 11 – Our Lady of Lourdes/Holy Twins
February 20 – Blesseds Francisco and Jacinta Marto
February 22 – Chair of St. Peter
February 23 – St. Polycarp of Smyrna
February gives us many opportunities to explore Catholicism around the world and to add new saints to our personal litany. Here are some fun ideas about a few of the above to bring them into your homeschool.
St. Brigid
St. Brigid's day is popular in my house due to the fact that we have a Bridget, and she is always very enthusiastic about celebrating her name day.
For this feast I read aloud the lovely book St. Brigid's Cloak by Bryce Milligan. It's a beautifully illustrated picture book telling the story of St. Brigid's connection to the Nativity. I usually read during tea time while snacking on St. Brigid's Bread (recipe below).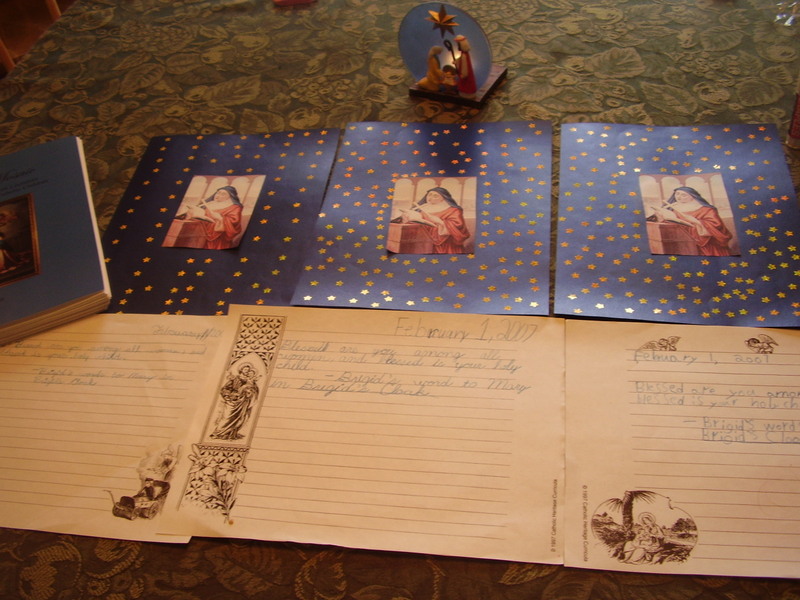 I have also had the children decorate dark blue (like the night sky) scrapbook paper with tiny star stickers and place a picture of St. Brigid in the middle. These make pretty bulletin board or fridge decorations for the month. A little copywork on pretty paper is also on the agenda.
The Presentation of the Lord
In the 1962 Missal this day is referred to as the Purification of the Blessed Virgin, and the day is commonly known as Candlemas. It is certainly a day rich in meaning liturgically as it commemorates the day that Jesus was presented in the temple, fulfilling the prophecy of Malachi:
"I am sending my messenger to prepare the way before me; and suddenly there will come to the temple the Lord whom you seek." (Malachi 3:1)
It also the day that Simeon prophesied:
"This child is destined for the falling and rising of many in Israel, and to be a sign that will be opposed so that the inner thoughts of many will be revealed – and a sword will pierce you own soul too." (Luke 2:34-35)
We always attend Mass on this day, bringing with us our candles to be blessed. I usually put them in a picnic basket because I include all the candles in the house, and I'm a bit of a candle junkie.
Any candle craft would do for this day, from paper towel tube tapers to actually pouring your own. Reading from the Gospel of Luke and discussing with the older children the meaning of Jesus' Presentation and the sorrow that Mary was to experience is also appropriate.
Presenting a lesson on the Seven Dolors of Mary, the first of which is the Presentation, is a prayerful way to observe the feast, as is listening to the Stabat Mater.
A beautiful recording is on Lent at Ephesus by the Benedictines of Mary, Queen of Apostles (available on Amazon Prime streaming). The Catholic Tradition website has information about the chant and the Seven Sorrows devotion.
St. Blaise
St. Blaise was an Armenian Bishop and physician who was persecuted and jailed. He was known to be a healer of people and animals and took many opportunities to heal his jailors, including healing of one their children who was choking on a fish bone.
It was for this reason he is invoked as patron saint of throat ailments. Legend says that his persecutors threw him in a lake to drown him, and he stood up on the water and invited them to invoke their gods and join him there. They all drowned.
He was eventually beaten, his flesh torn with wool combs (which is why he is patron saint of those in the wool trade), and beheaded. St. Blaise is one of the fourteen holy helpers, a group of saints who are patrons of specific trials and ailments.
Take the children to Mass today to have their throats blessed. The throats are blessed using candles, so if you didn't get to a candle activity on Candlemas, here is your chance.
St. Josephine Bakhita
Mother Josephine was the first person from the Sudan to ever be canonized, and she is a great source of hope for the people of that country. She was born there in 1869 and was sold into slavery. She endured horrors while being sold five times to different owners.
The fifth time her owners were not abusive to her, and she eventually went with them to Italy.
After several years St. Josephine was freed and went to live at the Institute of Catechism in Venice with the Canossian Sisters. There she learned to love God and became a Catholic. She lived a life of humble faith and great holiness as one of the Sisters.
"Be good, love the Lord, pray for those who do not know Him. What a great grace it is to know God!" – Saint Josephine Bakhita
Mother Josephine died in 1947, calling out the words, "Our Lady, Our Lady."
St. Josephine is known as the African flower, so paper flowers are a fun way to honor this great saint. Some of these flowers could be used to decorate a small altar with her picture. Find the Republic of Sudan on a map and see how far it is from Italy.
This website gives a great deal of information about this extraordinary woman. There is also an Encounter the Saints book called Saint Bakhita of the Sudan (available at Amazon).
Shrove Tuesday
Clearly this is not a feast day, but it is such a part of Catholic culture that it begs to be included in this list. It is also a fun way to mark the end of ordinary time and begin your Lenten preparations. Traditionally Shrove Tuesday or Fat Tuesday was the day on which homemakers used up the last of the fats in the house in preparation for the Lenten fast.
It is the last opportunity for feasting before Easter. Also called Mardi Gras, it is traditional to party hearty on this day. In our home we usually partake of a traditional pancake dinner with Mardi Gras colored pancakes, bacon, sausage, biscuits, fruit, and lots of dessert.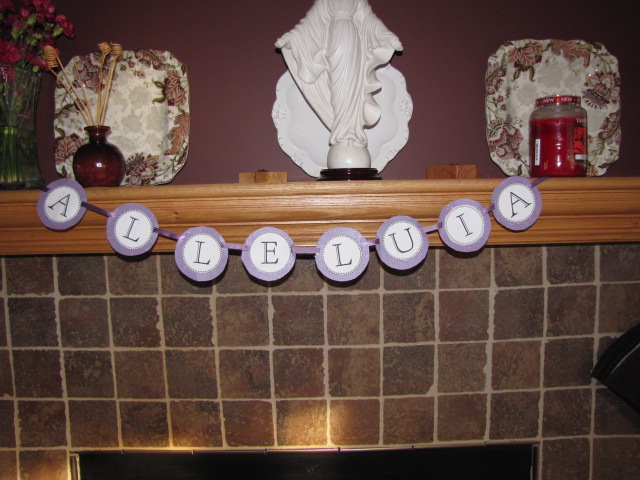 We also take a moment to "bury the Alleluia" on this day, since we will be waiting for the Risen Christ and until then there is no Alleluia.
This banner, which I made by printing the letters, cutting them into circles, gluing those circles onto bigger purple circles and stringing them on ribbon, gets "buried" in a wooden box purchased at the craft store. The box is hidden (in my closet). On Easter morning when the children get up, the banner is strung on the mantel and their Easter baskets are below. It's a nice little tradition.
Ash Wednesday
Lent begins and we start at Mass. Before attending, recite with the children, "Remember, O man, that you are dust, and unto dust you shall return." "Turn away from sin and be faithful to the Gospel."
After Mass choose your Lenten sacrifices and encourage each other to really stretch spiritually at this time.
On Ash Wednesday I always make a salt dough crown and stick toothpick thorns in it.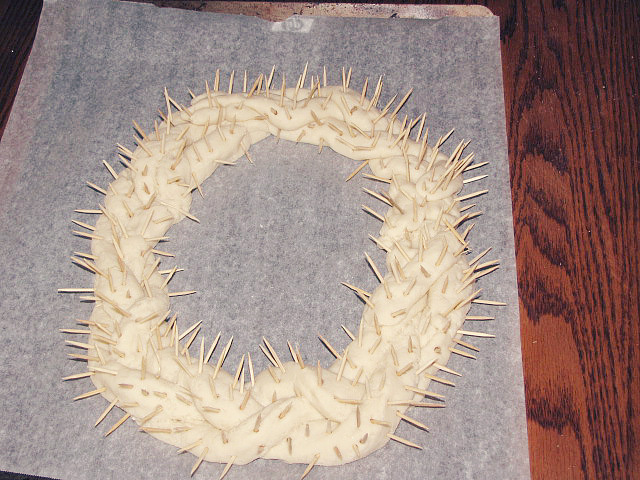 The theory is that all the thorns will be pulled out during Lent as the children make sacrifices and do good works. On Easter I decorate the crown with silk flowers and a white candle in the middle, and it remains our centerpiece throughout the season.
Our Lady of Lourdes
This is a wonderful feast day to celebrate with children. Our Lady's appearance to young Bernadette Soubirous in the grotto at Lourdes established her as the Immaculate Conception.
A few ideas for honoring Our Lady on this day:
Since Lourdes is in France, why not have some delicious French pastry for dessert, or a French meal for dinner, provided it does not interfere with your Lenten observance (there is always next year).
If it is not within your means to visit Lourdes anytime soon (as it is not within mine) then you can visit the grotto via a live feed here.
As you can see, February, though dark and gloomy, can bring its own joy if we follow the lead of our Church and bring the liturgy home. Much of the reason I share these little ideas here is to show how rich in tradition and heritage our Church is and how she is always caring for us in such practical and concrete ways, recognizing our human need for feasting and celebrating, for seasonal customs and our great love of hearth and home.
Pick one or two of these feasts and make them part of your family's February. Chase some of the gray away.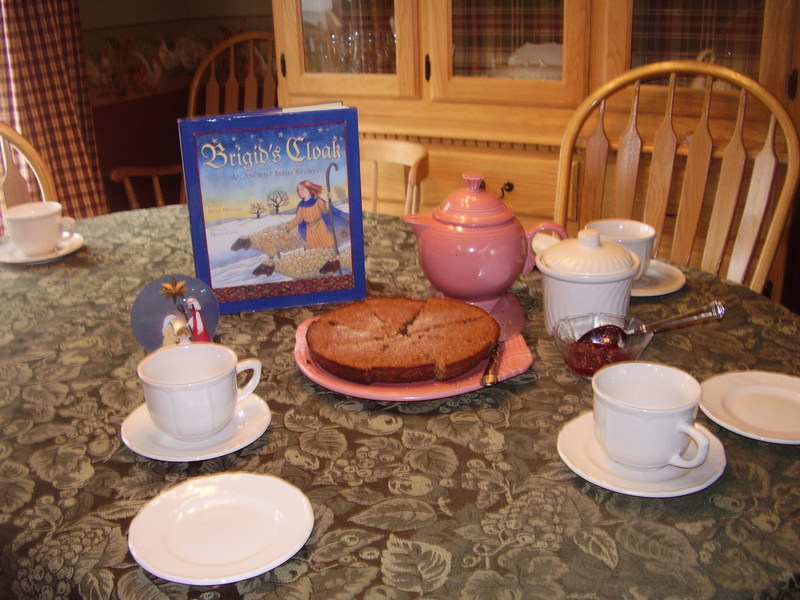 St. Brigid's Bread
2/3 cup butter or margarine
1/3 cup sour milk
1/4 cup brown sugar, packed
1/2 cup granulated sugar
1 pkg. yeast
1 egg
1 cup oats
1 cup Bisquick
2 tsp. cinnamon
1 tsp. allspice
1/2 tsp. ginger
Heat butter and milk to melt butter in microwave (or melt butter and scald milk). Add sugars. Allow to cool slightly and add yeast, stirring to mix. Let mixture rest for 10 minutes.
Add slightly beaten egg. Mix all dry ingredients and stir into yeast mix.
Lightly grease a Pyrex pie plate. Pour in batter and bake at 375 degrees for 20 to 25 minutes.
When done, allow to cool slightly and serve warm with butter, jam and Irish tea.
Header window photo CC Fr Lawrence Lew | Flickr