2 minutes
Lent is a great opportunity to refocus our efforts to draw closer to Jesus. Although we can certainly give up a few of our favorite things, we can also add extra prayers and sacrifices.
It's easy to lose focus or momentum throughout the 40 days of Lent. We can get discouraged when we falter or fail our Lenten promises. Sometimes a tangible way of tracking our progress can motivate us to stay on track or even return to it!
Chore charts, to-do lists, paper chain countdowns, stickers, stars or check marks: there is something satisfying about checking off a task or accomplishment or watching a growing number of stars accumulate beside our name.

Subtle Things
Sometimes, we are called to do subtle things without drawing a lot of attention: a quiet prayer, a choice to give the last cookie to someone else or an extra little effort to help out even if we're not asked to.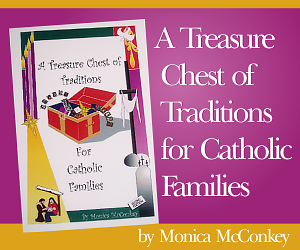 These things can't always be lumped together in the same category or recorded with a tally of gold stars… and announcing them can detract from their goodness.
But maybe, keeping track in our own little quiet way will actually entice us and remind us to do more…and I think that that's the goodness of the Good Deed Devotion Beads.
This little string of beads is nothing new! St Therese carried her own little string in her pocket in the late 1800's! She wasn't looking for little gold stars on the message board beside her name; she knew that she was pleasing Jesus with every good deed or sacrifice. She knew that once she pushed all 10 beads, she would just start sliding them back in the other direction. Maybe she knew that yesterday she counted eleven good deeds and today she hoped for twelve. It just made her happy to do small things with love for Jesus.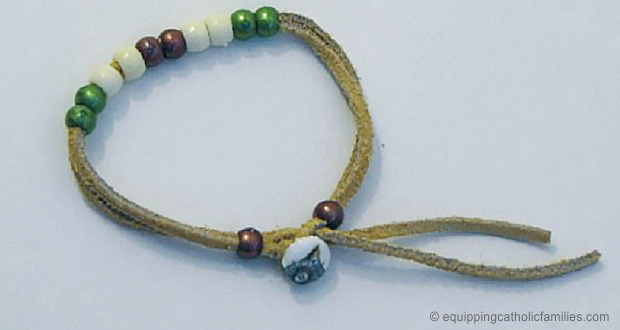 We have made slightly fancier Good Deed Devotion Beads that even adults will wear made with suede cord, but here are Good Deed Devotion Beads that can be made easily with pony beads and a shoelace or cord, on a key ring or as a bracelet. You can add your favorite cross or holy medal to complete this craft!
1: Gather your supplies. You will need about 30" of satin cord, 10 pony beads, scotch or masking tape, a safety pin and a cushion (optional) and a holy medal or plastic cross (optional).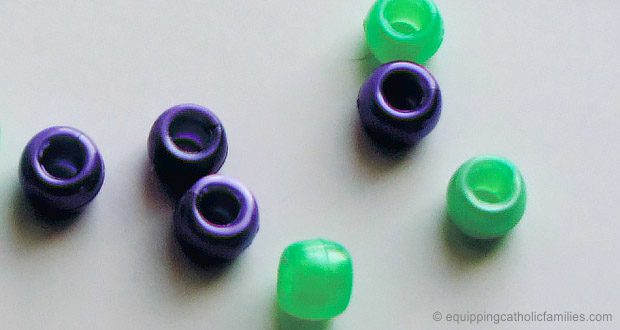 2: Fold the string in half and tie a double knot, about 1/2" away from the fold.
Tip: Secure the folded end of the cord to a cushion with a safety pin, to keep it steady while you are working on it.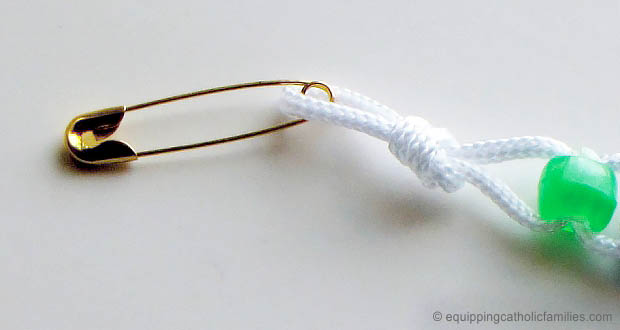 3: Wrap tape around the ends of the satin cord to keep it from fraying.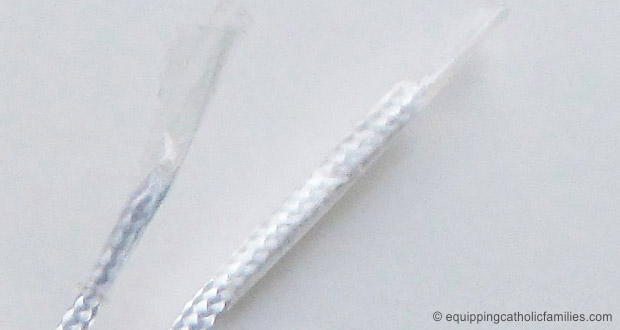 4: Thread both ends of the string in opposite directions, through each of the 10 pony beads, one at a time. The 2 pieces of string will cross each other inside each pony bead.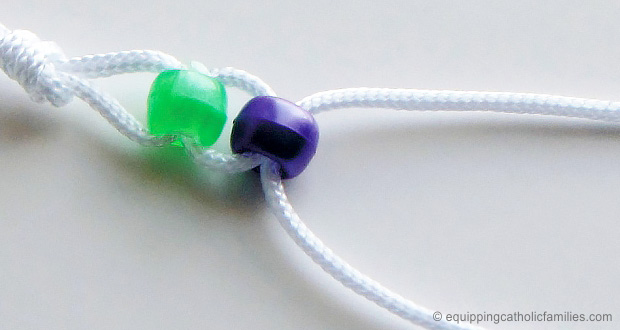 5: Leave ½" slack in the strings (after the 10 beads) and then tie a double knot.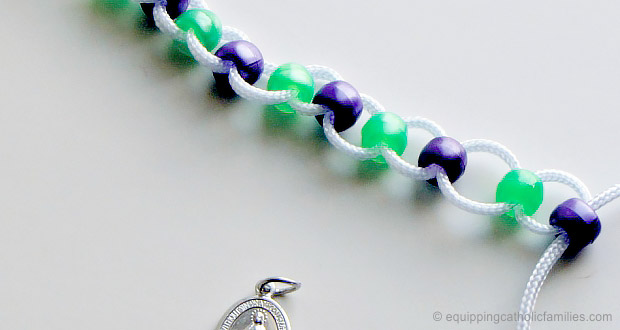 6: Thread the holy medal or small cross. Trim the excess string after another knot is tied to secure the holy medal or cross, leaving enough cord to tie the bracelet on.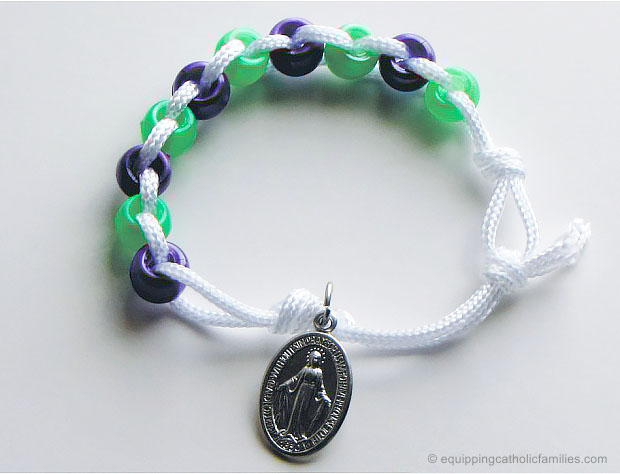 Done!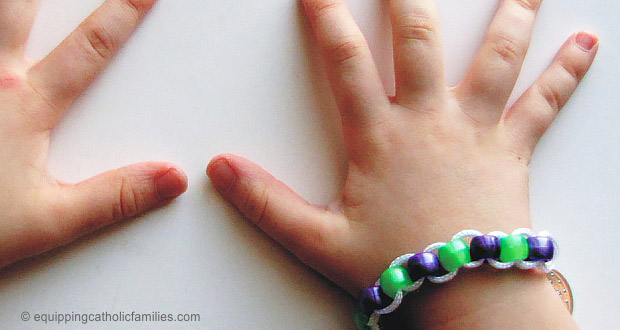 The Good Deed Devotion Beads can be attached to your coat zipper, purse strap or key ring or worn as a bracelet. The more regularly it's carried around or worn, the more useful it will be, serving as a reminder and a tool to pray and sacrifice.
The Good Deed Devotion Beads can also be an evangelization tool! Noticeable on a zipper or worn as a bracelet, the string of beads is a conversation piece even if sliding the beads every once in a while is a subtle, easily overlooked practice.
The Good Deed Devotion Beads can help establish a healthy spiritual habit! Commit to carrying or wearing them for Lent, allowing them to prompt acts of prayer and sacrifice. Maybe those extra prayers and sacrifices will become part of your everyday routine.
The Good Deed Devotion Beads craft can be found in A Treasure Chest of Traditions for Catholic Families by Monica McConkey, now available at Seton.