By nature, I am an indoor person. I dislike being hot or cold; I don't care for being wet or having my hair messed up by wind. Yeah, I'm kind of a princess that way.
I was raised by a woman who thought that camping was a three star hotel, and was decidedly nervous being more than forty miles from a Lord & Taylor. My mom regarded nature as a vast conspiracy to drop things on your head or to muck up your nice shoes, and by and large I agree with that.
However, God's creation is wondrous, and I want my children to have a deep appreciation for all of creation, not just what can be viewed on the Discovery Channel or through a cage in a zoo.
This has resulted in my jumping out of my comfort zone on many occasions and stretching my knowledge to include a lot of local flora and fauna.
I've Done it All. Well… Almost.
I live on Long Island which has a large variety of state and county parks, nature trails, petting zoos, game farms, an impressive aquarium, and some of the most beautiful ocean and bay beaches in the world. We have protected wetlands, rivers, lakes, ponds, nature preserves and working farms which can be visited and explored.
In other words, I have spent a lot time having things drop on my head and muck up my nice shoes. I have petted dolphins, been licked by llamas, been pinched by hermit crabs, held snakes, and been stung by every local insect going.
I have camped in the mud, been sick on a fishing boat, mined for diamonds in a rock quarry, fed a giraffe a carrot (after which he helped himself to my straw hat), been chased by goats, and howled at by a cow. I have raised tadpoles to frogs, been the keeper of an ant farm, and we are now on our fourth hamster.
I have banned goldfish due to the emotional trauma of losing them within twenty-four hours.
I have endured it all, enjoyed a lot of it and learned a great deal, not only about the wonder of God's creation, but about myself and my children. Also about my husband who spends a lot of time laughing at me during all of this, but that's another subject.
Becoming familiar with your surroundings – the night sky in your area, the topography of your part of the country, the local trails and farms, flora and fauna – will connect your family to the majesty of God and, in a way, to all other subjects of study. It is really important in the development of a child that they have strong connections to the outdoors and have large amounts of time to spend in both supervised exploration (a guided nature hike) and unsupervised (backyard fort building, mud pie making and bug catching).
So how does a "not enthused by the outdoors mom" include nature study in her homeschool? How does one connect the child to the outdoors and give them the opportunity to explore and wonder? Here are some steps I took:
1. Go outside.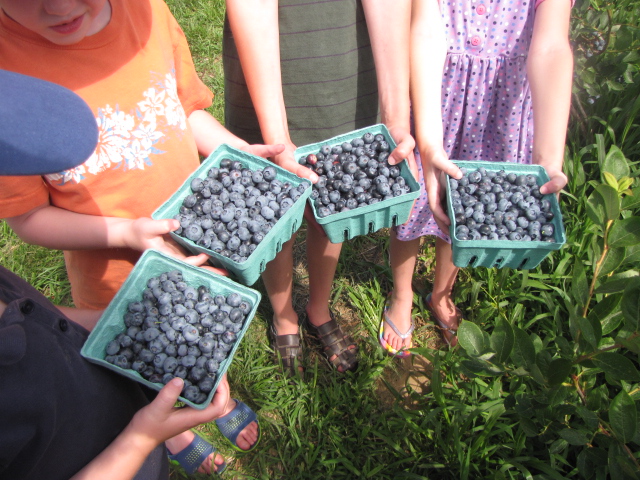 Sounds simple doesn't it? But it can actually be difficult to accomplish every day because we moms get so caught up in the plans and the lessons. The plan should include, at a very minimum, fifteen minutes of outside time a day, but an hour is better. Don't worry; they won't melt in the rain or freeze to death in winter if properly dressed. You will garner the accolades of 'coolest mom' the first time you let them play in the rain, I promise.
Outside time can include a walk around the block or a visit to a park. It can be time playing in the backyard or a nearby vacant lot. I try to plan an outing at least twice a month to a local nature trail or a farm.
Once or twice a year, we do something a little more involved to increase our awareness of the outdoors, such as visiting the planetarium or aquarium.
On fine days, I declare Deck School, and we have our lessons outside so as to soak up some vitamin D, bird watching and fresh air while also soaking up long division and literature.
2. Invite nature to your home.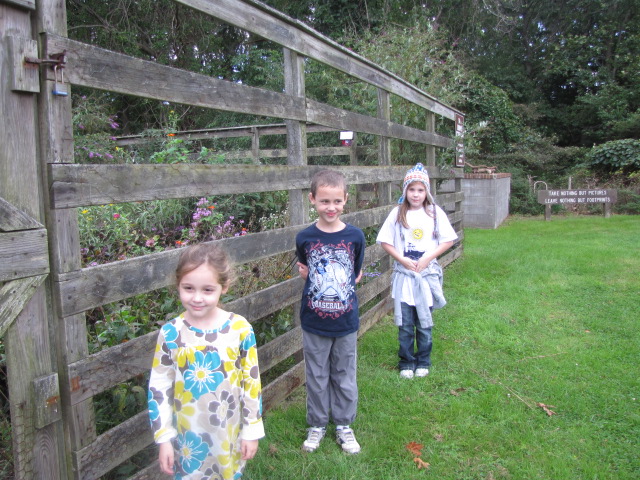 Bird feeders, squirrel feeders, bat houses, chickens, honeybees, butterfly bushes, a compost pile, maybe even a little fish pond. Try to make your yard, within the limits of the laws regulating your town, as critter friendly as possible. Start a list of the birds you observe, including the date, time and weather. Encourage the children to take pictures of your visitors and perhaps journal them in a book or on the computer.
Another easy way to observe is to let a portion of your yard go wild. No mowing or weeding. Just cord off a plot and let nature take its course. We've done this a few times, to the chagrin of my landscaper, and the insects, butterflies, wildflowers and new bird species that visited were more than worth a bit of a tangled mess in the corner of the yard.
3. Observe the seasons.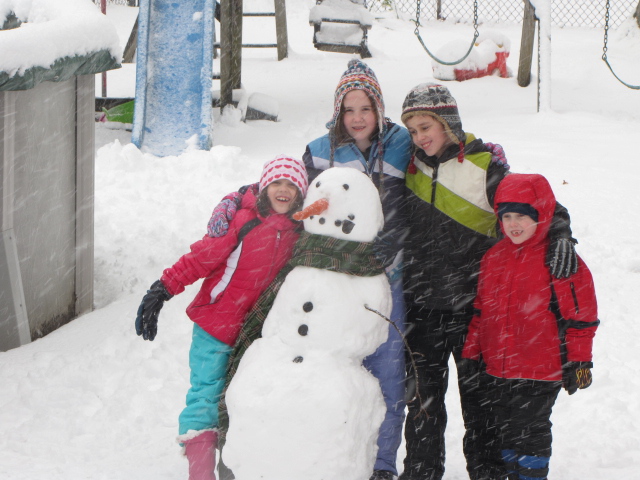 God ordained the passing of the seasons, and there is much to look forward to and observe in each time and in each part of the world. Make traditions in your home centered around the seasons.
Every spring we walk a particular nature trail down to a bay beach and search for hermit crabs. We also order butterfly cocoons and watch them emerge, releasing them when they are ready. Every summer we walk the trail from one of the beaches nearby to the Fire Island lighthouse and back. We see deer, ducks, foxes and lots of bunnies.
In the fall there is apple picking, pumpkin picking, and leaf peeping. In the winter we sled around a local lake and some hills, and we keep up with our critter observations by continuing to keep the feeders stocked.
4. Observe the Ember Days.

These days are meant to be a time of abstinence and penance in thanksgiving to God for the gift of His creation. We are also meant to pray for the restraint to use His gifts wisely and with concern.  The fasts, known also as "four season fasts," are a continuation of the practice of fasting quarterly in the Old Testament.
"Thus saith the Lord of hosts: The fast of the fourth month, and the fast of the fifth, and the fast of the seventh, and the fast of the tenth shall be to the house of Juda, joy, and gladness, and great solemnities: only love ye truth and peace. (Zacharias 8:19)
In keeping with the newness of the Liturgical year, the first of the Ember days take place right after the feast of Saint Lucy. The Wednesday, Friday and Saturday following the feast are the winter Ember Days.
The second is in the spring following Ash Wednesday, the summer days follow Pentecost and the autumn days follow the Triumph of the Cross.  A little way to remember:
"Lucy, Ash, Dove and Cross", or in Latin,
Sant Crux, Lucia, Cineres, Charismata Dia,
Ut sit in angaria quarta sequens feria.
5. Vacation in nature.

Now I would really rather be thrown off a bridge than go camping, but I will do a cabin (I'm all about the indoor plumbing).
We have spent much time in a small cabin in Maine where we are often greeted in the morning with moose right in front of the porch and bears rattling the garbage pails at night. The children love it.
I am happy that they love it, and I love how they have grown up knowing this place and enjoying my one or two freak outs regarding my encounters with the outdoors during our stay. It's become part of our family lore, making fun of Mom and the Skunk (rotten kids).
We have also seen the ponies at Chincoteague; hiked a mountain in Tennessee (they tell me it was a hilly trail but I disagree); ridden the rapids in Maine; and spent six months (or a couple of hours, it just felt longer) chipping away at rocks, looking for diamonds in Herkimer.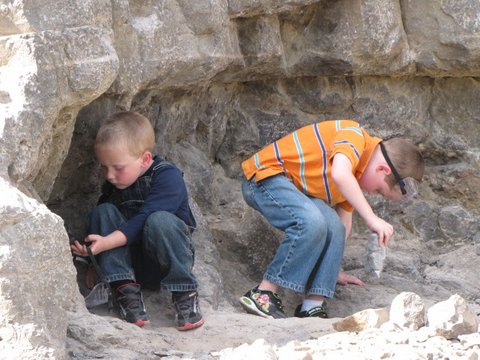 Wherever we go, we try to include some outdoor time as a family, and having family in New England and Georgia gives a great opportunity to explore a few different areas of the country while visiting. Even if you are planning a great amusement park vacation, it might be possible to take in some local color by exploring off the beaten path and seeing what the area has to offer besides the rides and attractions.
6. Get acquainted with the heavens.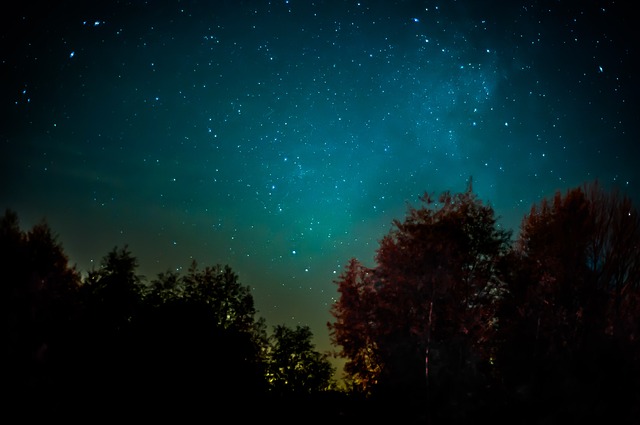 I really feel that the night sky is one of the most beautiful of God's creations. Not only the vastness and sheer awesomeness of the heavens, but it's also just an amazing show. Here on Long Island, we are plagued with so much light pollution that, even on the clearest of nights, we are able to see only a very small number of stars. Rarely are we able to see any night events such as meteor showers or planetary movements.
For this reason, we made the investment in a high quality telescope which goes with us when we travel. It has been a wonderful addition to our homeschool arsenal, and if anyone asks what your family wants for Christmas, I recommend asking for one.
On the occasion of the east coast blackout in 2003, we let the children stay up much later than usual in order that we might take full advantage of the clear skies unfettered by the lights of civilization. The telescope made a giant inconvenience – no electricity – into a magical evening of wonder. The older ones still talk about it.
And that is one of the best reasons to make as much effort as possible to connect with God's creations in nature. These moments not only bind your children to the world around them but they create cherished memories and add to the very culture of your family.
Creation is concrete proof that God is perfection in scope, design, order and beauty, and when we come to know it and love it, we sing His praises.
"Although one might think that all created life should be a hymn of praise to the Creator, it is more correct to maintain that the human creature has the primary role in this chorus of praise.  Through the human person, spokesperson for all creation, all living things praise the Lord." Saint John Paul II (General Audience January, 2002)