I think I have a problem.
Perhaps it's because I'm from a different generation.  I'm a bit more staid and sensible, not quite so carefree and fun-loving.  I try to understand their ways, I really do.  But I was born in a different time, with different values.
My  husband's parents have become wild gadabouts.
It started with them getting a new caravan. Then, before we could catch our breath, they showed up in our driveway with a terrifying enthusiasm, showing us all of the clever features that would be useful if they were to take it somewhere remote for a really long time.
"This is a bad sign," my husband muttered to me as we inspected their satellite phone. I grimaced in agreement.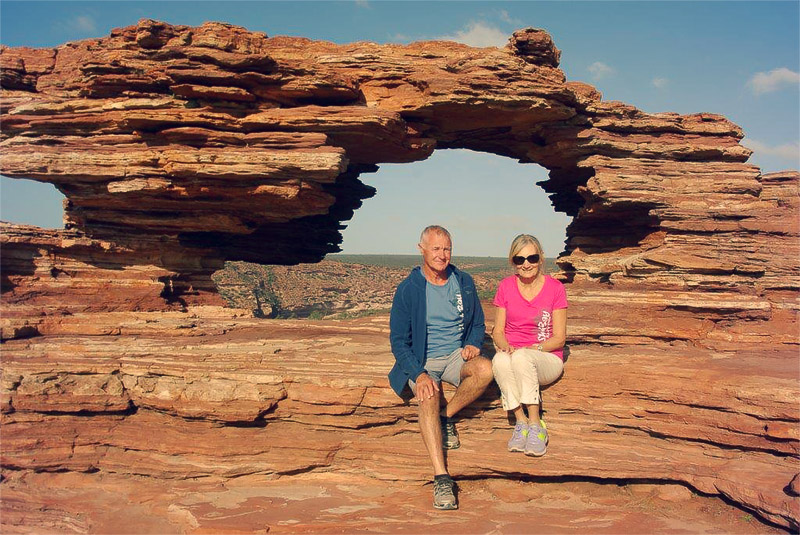 Gallivanting Grandfolk
The next thing we know, there's talk about a trip around Australia (we live in Melbourne, Victoria).  What nonsense!  Geographically speaking, Australia is almost as large as the USA.  The gallivanting grandfolk had already taken a few trips up the east coast to Queensland (which my husband and I grimly tolerated under duress), but now they were talking about going across to Adelaide, up through the red center to the top end, then back south along the west coast, and home again through the Nullabor.
I know you're not Australian, so those words probably made no sense to you at all, but trust me: it's a very big deal.  This trip would take several months.  It was simply not acceptable.
It is a well known fact that when a person becomes a grandparent, it is time for them to stop leading interesting lives of their own.  It is time for them to clear their schedule (bingo may be permitted once a week) in the hope that their children might call with requests for babysitting.  Their days may be spent sitting by the phone, preferably in matching rocking chairs, knitting and/or whittling, in anticipation of this call.
I earnestly tried to explain this to my husband's parents when I was next at their house, but they just laughed appreciatively and continued to pore over their road maps.  I think they thought I was joking.
It was a week or so after we wistfully waved goodbye to the gray nomads that I had a great idea for homeschool.  We could do an epic geography project based on Nanna and Pa's travels!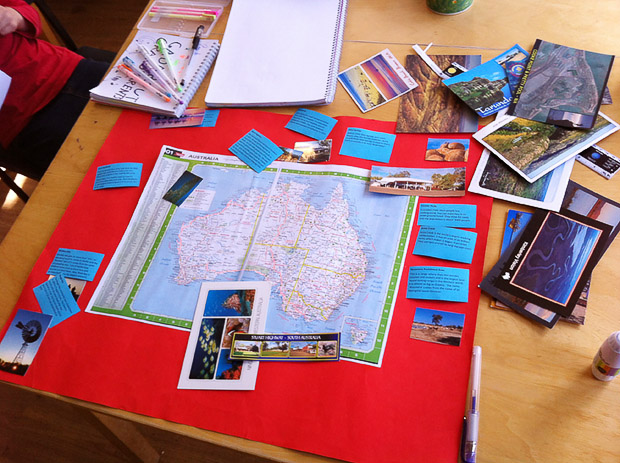 Discover by Proxy
First we took a color-photocopy of a road map of Australia (we used the one from our street directory, because it was the most detailed) and mounted it onto a cardboard sheet.  With each phone call, Skype session, text message and postcard, we would discover more about their journey and carefully plot it onto our map.
The interesting facts we learnt sparked our curiosity, and we looked at books and websites to find out more.  Here's a small taste of what we discovered:
The largest cattle station (like a ranch) in the world is Anna Creek Station in South Australia.  At 9,400 square miles, it is bigger than the state of New Jersey and slightly bigger than Israel.  Light airplanes are used to help manage the stock.
Coober Pedy is a mining town in central Australia famous for its opals.  It is so hot here during the daytime, many houses are built underground.  The local golf course has no grass (golfers use a portable square of turf to tee off) and people usually play at night, with glowing balls, to escape the daytime heat.
Before becoming president of the USA, Herbert Hoover spent time in the goldfields of Western Australia, working for a London-based gold-mining company.  He described the area as a "land of black flies, red dust, and white heat."
When the wayward wayfarers finally arrived home, we were able to present them with a map of all their travels, surrounded by pictures and information boxes.  They were surprised and delighted. In retrospect, this might not have been the best idea — I wouldn't want them to think we were encouraging them!
Do you have a similar problem in your family?  Perhaps, if the grandparents in your family have the audacity to go traveling, you might like to get out the construction paper, photocopy a map and do something similar.  It's like making lemonade out of a very sour lemon!
And now, if you'll excuse me, I need to find some construction paper and a map of Europe.  My parents are planning a four-week tour of the continent.
Honestly, these wild grandparents!  When will they learn?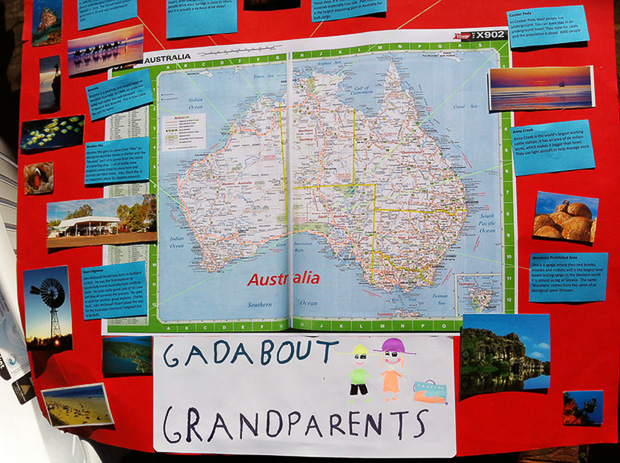 Header Image CC ernieski