Summary
The Gumerson's benefits of Seton homeschooling include extra time with dad and each other, growing closer as a family, and the Kid Catholic YouTube channel.

We are an unusual family. The Gumerson family from Oklahoma City is a family of seven. So far, so good. Right?

Dad, Ted, is older than Mom, Cheryl, and he is retired. Our oldest and only daughter, Leitner, is 24 years old, and she has a beautiful 20-month-old daughter, Brielle. Next come twin 12-year-old boys, Kedon and Greiner. Bringing up the rear for the original four is Jarrell, age 6.

The twins are in 7th grade. Jarrell is in kindergarten, and all three have used Seton Home Study from the beginning. Leitner went through the public school system, which is the main reason we decided to homeschool the last three. It was not an easy decision to take the plunge and homeschool.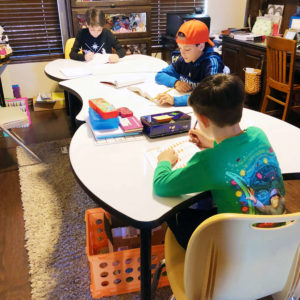 My husband Ted was completely against homeschooling. He was worried about the socialization of the children and all the typical concerns most people voice. But I had always wanted to try it. We decided to go for it, taking it one semester at a time just to see how it went. I prepared my plans on a semester-by-semester basis until this year, 7th grade! After eight years, we are officially a homeschool family.
Boys' Day
The benefits of homeschooling are too many to count, but there are a few I can highlight. With Ted being older and retired, he can spend so much time with the boys. Most dads are off to work all day, but our dad is around all the time.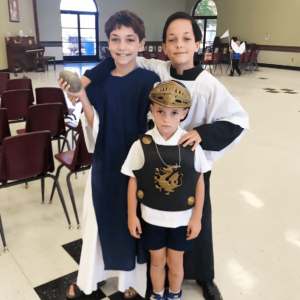 Every Friday, the four of them go on "Boys' Day." They go to a special lunch and then a fun activity. The boys take turns choosing where to go. It will include trips to the zoo, the science museum, the park, or a movie. The options are endless, and our sons always look forward to boys' day.
One of my favorite benefits of homeschooling is the relationship my children have with each other. Jarrell and the twins are so spread out in age, and they never would have been in the same school. After running to soccer practices, dance classes etc. in the evenings, they would never see each other.
Strength of Family
Last spring, their niece, Brielle, lost her father. She was only 10 months old when he died. Thankfully, she will not remember this tragic event in her life. But because everyone is around all day, we shower Brielle and Leitner with love as they get through this loss. Home schooling has allowed our family to be closer than usual, and there have been times when we have needed to lean on each other.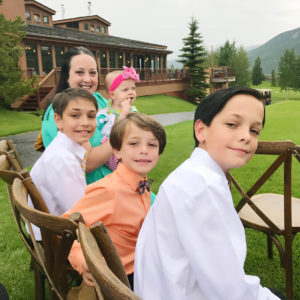 Seton Home Study has been so beneficial to our family. The curriculum is deep in Catholic theology. When Kedon and Greiner were in kindergarten, they started to ask me some thought provoking questions after doing their religion lessons. They would ask questions I could not answer. I had to get a Master's Degree in Theological Studies just so I could keep up with my children and their Seton lessons.
A friend has said that my boys "can talk Catholic circles around anyone!" Greiner calls himself "the saint specialist." He can speak about numerous saints and give all the pertinent facts relating to their lives.
Following Their Passion
Kedon started a YouTube channel last year called "Kid Catholic." He discusses different Catholic topics. There have been days when I ask him how he came up with a particular topic, and his response is that it was his religion lesson for the day. He releases a new episode every Tuesday.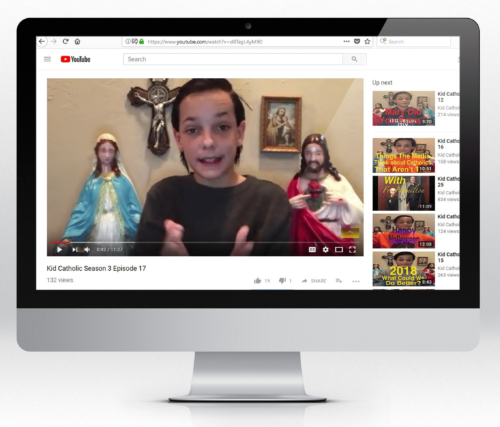 Kid Catholic has recently received a lot of attention. He was in our local secular newspaper and the Catholic paper. He was also featured on the "Busted Halo Show" with Fr. Dave Dwyer on Sirius radio, and he was recently interviewed on "Spirit Catholic Radio" in Omaha, NE. Kedon has also given a talk to the youth at our parish. Click here to find Kedon's Seton Student Achievement.
He would like to be an inspirational speaker and travel the country giving talks on all matters of the faith. None of this would have been possible without the rich Catholic education he has received with Seton.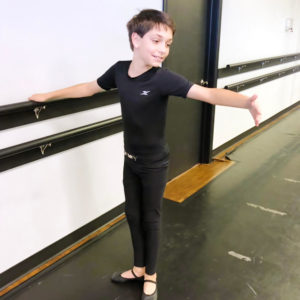 Greiner started a new dance program at his studio this year, which is called PRO and is for homeschool children who want to take dance to the next level. He goes twice per week. Since he is homeschooled, he gets to dance an extra 8 ½ hours every week! Greiner loves to dance and has shown much improvement this year.
We attend the Catholic Family Conference in Wichita, KS, every year. This year, we ordered a set of Stations of the Cross for our home. They recently arrived, and we had them blessed, and then hung them around the house. Our plan is to begin school every Friday (before they leave for boys' day) with Stations of the Cross. This will be a beautiful addition to our school week, and we cannot wait to get started.
We are all so grateful for the rich Catholic education our children are receiving from Seton Home Study. Homeschooling has been such a blessing to our family. While it is not always perfect, and the boys will sometimes fight like normal siblings, they know they are there for each other in the end.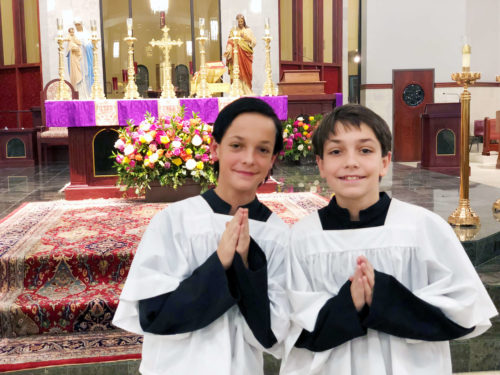 The love, joy, and passion for each other and the Faith have been wonderful. It appears the decision to complete my class plans for the whole school year was a good move for us. Thank you, Seton, for all you have provided for our family!