The 2015 homeschool conference season is off and running, thanks to the St. Louis Catholic Homeschool Conference, where speakers such as Patti Maguire Armstrong and Andrew Daub discussed topics from Why Homeschooling Works to What is Common Core? to Guiding Our Sons into Extraordinary Manhood.
There are many more conferences to come over the next several months, so check your calendars and your maps, and prepare to attend the next homeschooling conference near you. You won't regret it!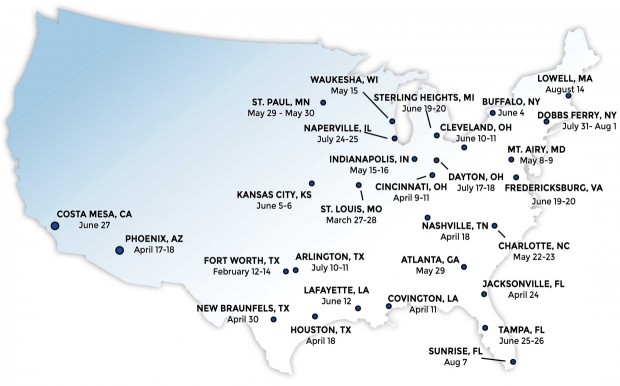 See all Seton's Homeschool Conference Dates in 2015
Since Conferences Started
Seton Home Study School has been participating in homeschooling conferences since homeschooling conferences first started in the 1980s. In fact, Dr. Mary Kay Clark was the sole presenter at a Louisiana homeschool conference back in the early 1980s. She still chuckles over her memories of speaking literally all day to the eager attendees, followed by a meal of the spicy Cajun food to which she was very unaccustomed.
Throughout the 80s and early 90s, Seton participated in numerous Christian homeschooling conferences, but on June 1st, 1991, Seton hosted the first Seton Conference, a whole conference dedicated to Catholic homeschooling.
This conference took place in Chicago at what was then the Dominican Priory in River Forest, and it was there that Dr. Mary Kay and, her son Ken Clark met Ginny Seuffert, who has since become one of the most popular speakers on the Catholic homeschooling conference circuit. In 2001, Seton helped establish the IHM Coalition, and has been attending IHM conferences ever since.
Homeschool conferences have come a long way since the early days, and although the Internet and social media have done a great deal to promote homeschooling resources and communities, homeschool conferences are still one of the best ways to learn about homeschool strategies and connect with homeschool support groups.
An ever-increasing roster of excellent speakers gives parents an opportunity to hear the best of homeschool and Catholic inspiration, practical wisdom, and encouragement.
Popular vendor halls at the conferences provide many services and products, as well as special discounts available only to conference attendees.
Finally, there is no better place than a Catholic homeschool conference to meet hundreds of other families taking the same educational and spiritual journey you're on with your own family.
Conference Speakers
Ginny Seuffert
A mother of 12, who has homeschooled for over 20 years, Ginny is one of the most popular speakers on the Catholic homeschooling con-ference circuit. A regular columnist for Seton Magazine, her wisdom and humor can also be found in Ginny's Gems: Home Management Essentials and Ginny's Gems: 10 Essentials for Teaching Your Preschooler at Home. Meet Ginny

Nick Marmalejo
Nick is a history counselor at Seton Home Study School. A graduate of Christendom College with a major in history, he and his wife Clare homeschool their 3 children in Virginia's Shenandoah Valley. Nick draws upon a wealth of personal experience and interests to help homeschooling families in the areas of motivation, discipline, and social studies. Read Nick's articles on Seton Magazine

Mary Ellen Barrett
Mother of 8 children and wife to David, Mary Ellen is a columnist for The Long Island Catholic and chronicles the journey of living a faithful, but imperfect, Catholic family life on her blog; Tales from the Bonny Blue House. She is passionate about good books and the Catholic Faith infusing and informing her family's homeschool life.  Meet Mary Ellen

Abby Sasscer
Abby was born in the Philippines and came to the U.S. in 1986. Wife, homeschooling mother of three, and advocate on the importance of simple living, Abby's mission is to help families learn to live simply and generously even if the world says otherwise. She is the author of Simplifying Your Domestic Church. Meet Abby

Gary Zimak
Gary is a frequent speaker at parishes and conferences across the country and is well known for his talks on overcoming anxiety. He is a regular guest on Catholic Answers Live, EWTN's The Son Rise Morning Show, and Catholic Connection with Teresa Tomeo. Gary and Eileen have been homeschooling parents for the past 4 years and love it! Read his articles on Seton Magazine