History has always been a favorite course at Seton. Dr. Anne Carroll who founded Seton School in Manassas, Virginia, and her husband, Dr. Warren Carroll, who founded Christendom College in Front Royal, were two avid lovers of history as well as authors of several history books.
Anne Carroll gave a great speech at a Catholic homeschooling conference, in which she said, "Everything we teach our children should have as its ultimate purpose the glory of God and the good of souls. History is no exception. It is through history that we learn that Jesus Christ is the most historically important Person Who ever lived, and that the Incarnation, Redemption, and Resurrection are the most important events in history."
"Christianity transformed civilization," she continued. "Christianity introduced the concept of limited government, the idea that the king or ruler was responsible to God, and that the legitimacy of governments depended on whether or not they were in harmony with God's laws. Absolutist, unlimited governments are pre-Christian or anti-Christian."
Long ago, publishers produced history books for Catholic schools, but when they  went out of print, Seton started writing history textbooks. As an extension, Bruce Clark, the head of the history department, often writes interesting "sidebars" in the lesson plans, or presents little-known events in his audios.
Both Mr. Clark and Mr. Nick Marmalejo are currently producing history videos.
Mr. Marmalejo, the Seton assistant history counselor, and graduate of Christendom College, studied under Dr. Warren Carroll. Other historians at Seton are Dr. Bernie Way, political science professor at Christendom College, and  Mr. Andy O'Neill, a graduate of Christendom College, who also studied under Dr. Carroll.
All of the history staff have worked to design the curriculum and tests, and answer questions on the Seton History message board. Some of the message board posts have reached over 30,000 hits. This past year, one of our Seton graduates wrote the following on the Seton Message Board to encourage others with her experience at Seton:
Dear Mr. Clark and Seton staff,
I am a Seton graduate in my first year at a state college, studying liberal arts. Even after only two months of college, I can already see the countless ways in which the Seton program has prepared me for academic success.
One of my courses this semester is a survey course of early western civilization. I recently took my first in-class exam in this course; it was composed of objective questions and an essay. The professor admits to being a harsh grader, so I was absolutely stunned when she returned my graded test and announced that I had received a score of 100. Apparently I am the first student in four years to achieve a perfect score on one of her tests!
I could not have achieved this level of success without Seton's rigorous history program. I want to extend my hearty thanks to Mr. Clark and to the rest of the Seton staff. Seton Home Study School was truly a great blessing in my life. To current Seton students: The work may seem impossible and endless, but it is worth it! Study hard and pray! God bless all of you!        
-Maria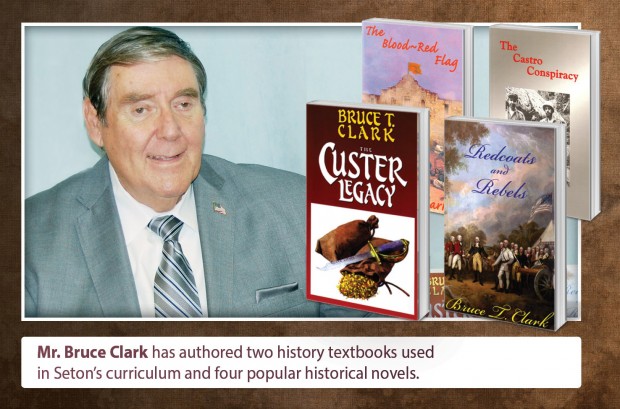 Seton's History Curriculum
Seton's History Curriculum includes eight original titles and two titles authored by Mrs. Anne Carroll.