3 minutes
Summary
The Boyds insisted on a home study that was Catholic, accredited, flexible, with online options and affordable. Here's why they chose the Seton curriculum.

As an active duty military family, we are not able to choose where we live.

In our encouragement and support of Mike's call to service, part of our sacrifice as a family has been to go where he is needed.

As a result, we have experienced a range of diversity in the quality of the schools at each duty station.

Our last relocation was particularly challenging, as we moved from a solid school district to one that was incredibly insufficient.

The impact was felt immediately. Our boys, both of whom had been in accelerated learning classes, were now attending schools that did not offer any comparable programs.

In addition, the school was implementing the Common Core standards, and with that the mandate that all children work on the same assignments at the same rate.

Learning was not occurring, and our boys were stifled.

So we decided to homeschool.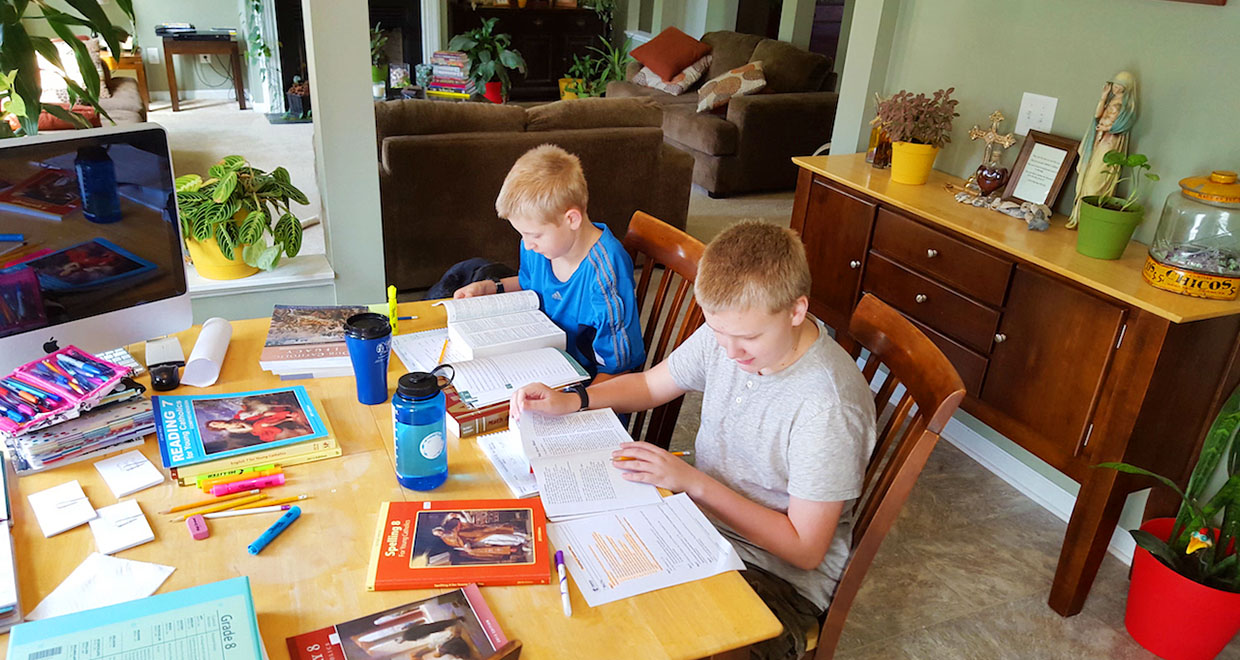 When my husband and I first entertained the idea of homeschooling our two boys, we had a list of requirements by which we judged each curriculum provider. We wanted valid and reliable reasons to enroll our children, and would accept nothing short of a curriculum that was Catholic, accredited, complete, flexible, with online options, available support, and affordable.
Heading into our third year of homeschooling, we continue to choose Seton. Here's why.
1. Catholic
The importance and advantages of Catholic education extend beyond academics. Catholic education addresses the spiritual formation of the students while also nurturing the development of God-given gifts and talents.
Catholic teaching naturally incorporates a belief in all students and their successes, while maintaining high expectations with challenging curriculum.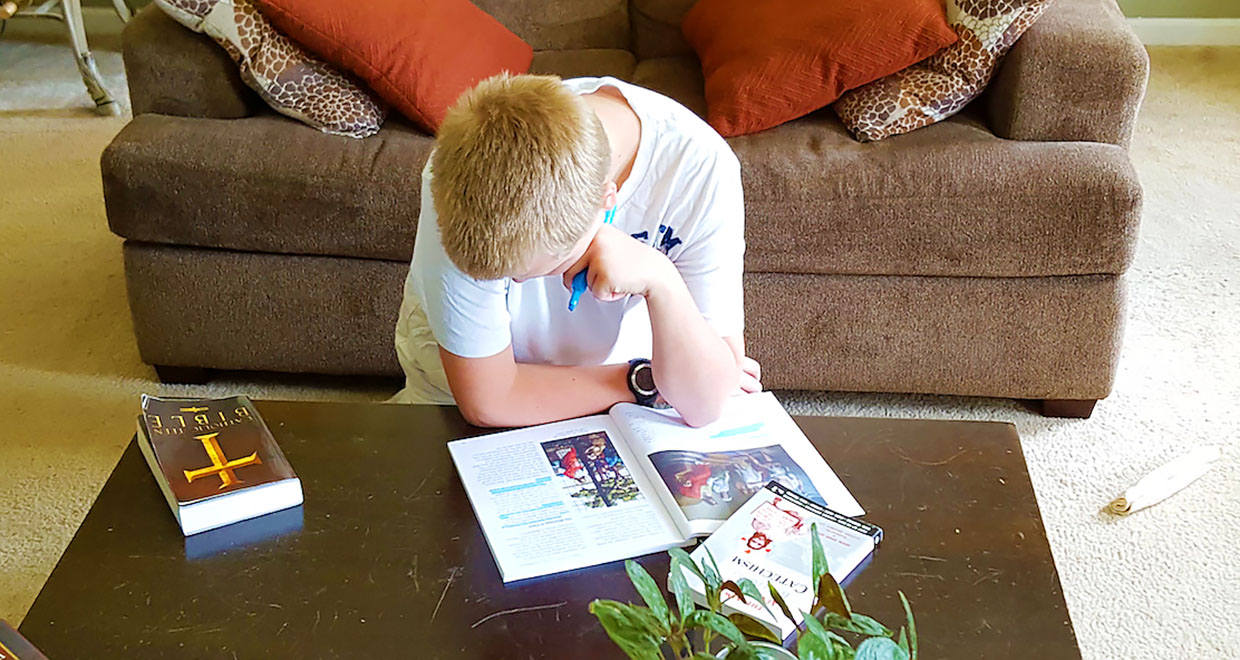 A strong and genuinely Catholic education promotes self-discipline and moral values that aid in the development of leadership and prepare students to be productive citizens and good stewards.
Seton offers a Catholic curriculum, provides solid religious instruction, and addresses both the spiritual and educational development of the whole student.
2. Accreditation
As college graduates ourselves, accreditation is essential for my husband and me. In the process of validation, in which a school is evaluated by a peer review board, the school must meet general standards pertaining to mission and growth, objectives and goals, student requirements, services available to students, quality of education, reputation of the faculty, and integrity of the agency.
This matters because schools that are accredited are more likely to offer diplomas that are recognized.
We can have confidence that the diploma earned from Seton will be backed with the education needed to transfer into other reputable institutions, namely universities.
Schools that hold accreditation, including Seton, regularly review, evaluate, improve, and report on goals and growth. They constantly seek to achieve a higher level of greatness and excellence.
3. Complete Curriculum
Seton offers a well-rounded and complete curriculum. The knowledge gained from the courses is extensive across all subject matters.
However, the beauty of what Seton offers extends beyond information. The curriculum aids development of moral character, developing habits and skills that are relevant to students not only today, but also throughout college and beyond. Students are challenged to become both critical thinkers and successful communicators.
Seton is designed for students to "explore the argument" by taking time to really hear and comprehend what is being said and find what is most important, not just to listen, complete the task, and advance.
Seton's curriculum cultivates a love of wisdom, fosters self-learning, and teaches our children to be evaluative, so that they may make judgements based on moral truth.
4. Flexible
Seton offers flexibility that any family can appreciate. In addition to the convenience of choosing a start date that works best for your family, the way you structure your individual homeschool and present information is up to you as the parent.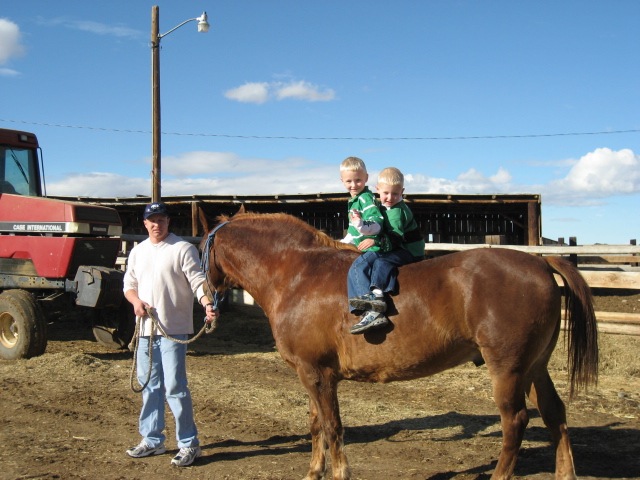 This allows for individualization according to the needs of each student. Seton provides in-depth lesson plans that detail the scope of each subject, identify objectives for student learning, present teaching and learning activities, and provide strategies to check for student understanding.
These lesson plans can be used as is, or can be adapted to fit each student's particular needs.
Seton also offers flexibility in that we are able to school wherever we are, be it on extended trips or even relocation. Any parents, regardless of personal education level, will find confidence in their vocation as natural and primary teachers of their children.
5. Online Options
For our family, the convenience of online options is appealing. Our boys, who began with Seton for their 5th and 6th grades, enjoy the ease of uploading typed book reports and taking available tests online. They appreciate the timely grading and comments on assignments.
My husband and I appreciate having all school work and grades for both boys available on our "MySeton" page. With a quick log-in we have a complete view of each child's work and grades for all the years they have been enrolled.
There are also additional resources and video tutorials that can be accessed.
6. Available Support
Seton stands behind its program.
There are numerous ways you can reach the Seton staff should you have questions or seek additional information. Our experience with Seton staff has always been positive.
We have found everyone to be knowledgeable, understanding, patient, and kind.
Our boys have always received valuable feedback on their assignments that offers a fair critique of their work and challenges them to do better.
7. Affordable
Seton offers a high quality, academically sound, Catholic education in all subject areas. When you enroll with them, your enrollment covers tuition and fees, books, lesson plans, grading services, accreditation, record keeping, online and offline options, and available support for one reasonable price.
For a fraction of what you pay in tuition for private schools, and what public schools spend per pupil, you get Catholic, comprehensive, academic excellence with Seton.
Stronger in Faith & Family
Seton has been an answer to our prayers. Every day we build toward stronger family bonds in how we pray together, study together, work together and play together.
The desire to seek knowledge for the sheer fun and enjoyment of it has found its way back into the hearts of our boys, and Mike and I enjoy seeing their interest set afire.
Feeling a part of the wider Seton community has also been a blessing. Having support and solidarity in a shared clarity about the call to provide a sound moral education brings peace.
We are able to trust the educational and spiritual materials coming into our home.
We are stronger in faith and as a family since choosing Seton!