Summary
The Seton Grads, 130 young people from 35 states and Puerto Rico gathered in Front Royal, VA to deliver the promise of better things to a fallen world.

No rain, temps in the 70s, pony rides and bounce houses for the young ones, boxes of cheese and veggie pizzas, popcorn, lots of juices, sodas, and Italian ices. Add scores of proud parents, their kids playing Frisbee football and cornhole, and a boatload of graduating seniors from the classes of 2020 and 2021, and you have a picture of the grounds of the Seton Home Study School on the first Friday in July.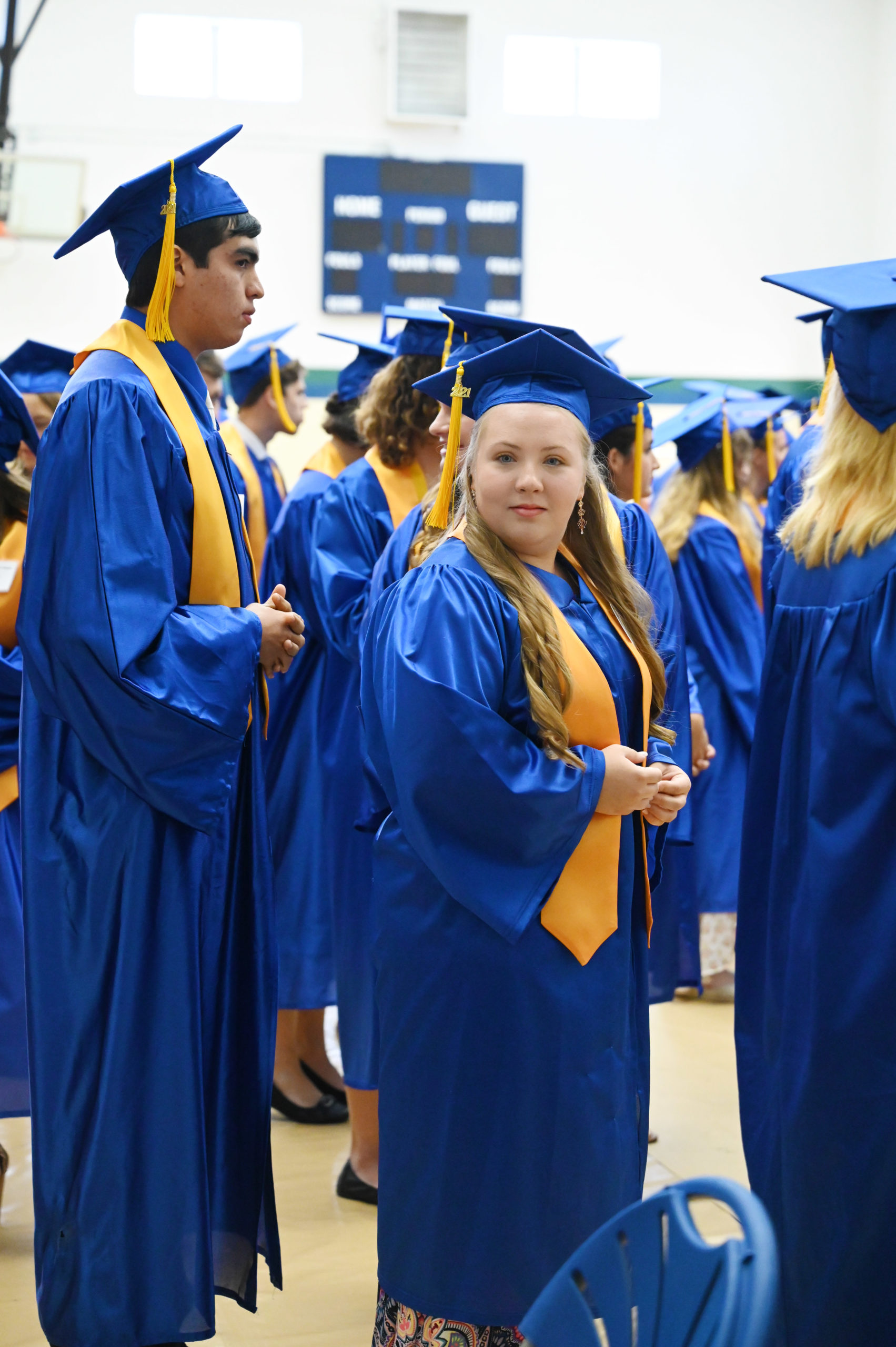 130 young people from 35 states and Puerto Rico gathered that weekend to receive their diplomas for their years of hard work and study. Among them were Joshua Arriola of New Jersey, off to college to earn a degree in computers; Rose Sulik of Connecticut, who will enroll in a computer-aided drafting design program for building houses; Carly Richards of Kiln, Mississippi, who won three scholarships to enroll in the theater program at Rollins College; and Christina Colombo, who is following her sister and Seton graduate Isabella to Long Island's Hofstra College, where she intends to major in classics and Italian.
Field of Dreams
Over the years, I have covered several graduations for the Seton Magazine and listening to young people talk about their hopes and aspirations always fills me with enormous joy. This year, for example, I learned that Rachel Swasso plans to apprentice herself to an artist in the Diocese of Tyler in Texas, where she will acquire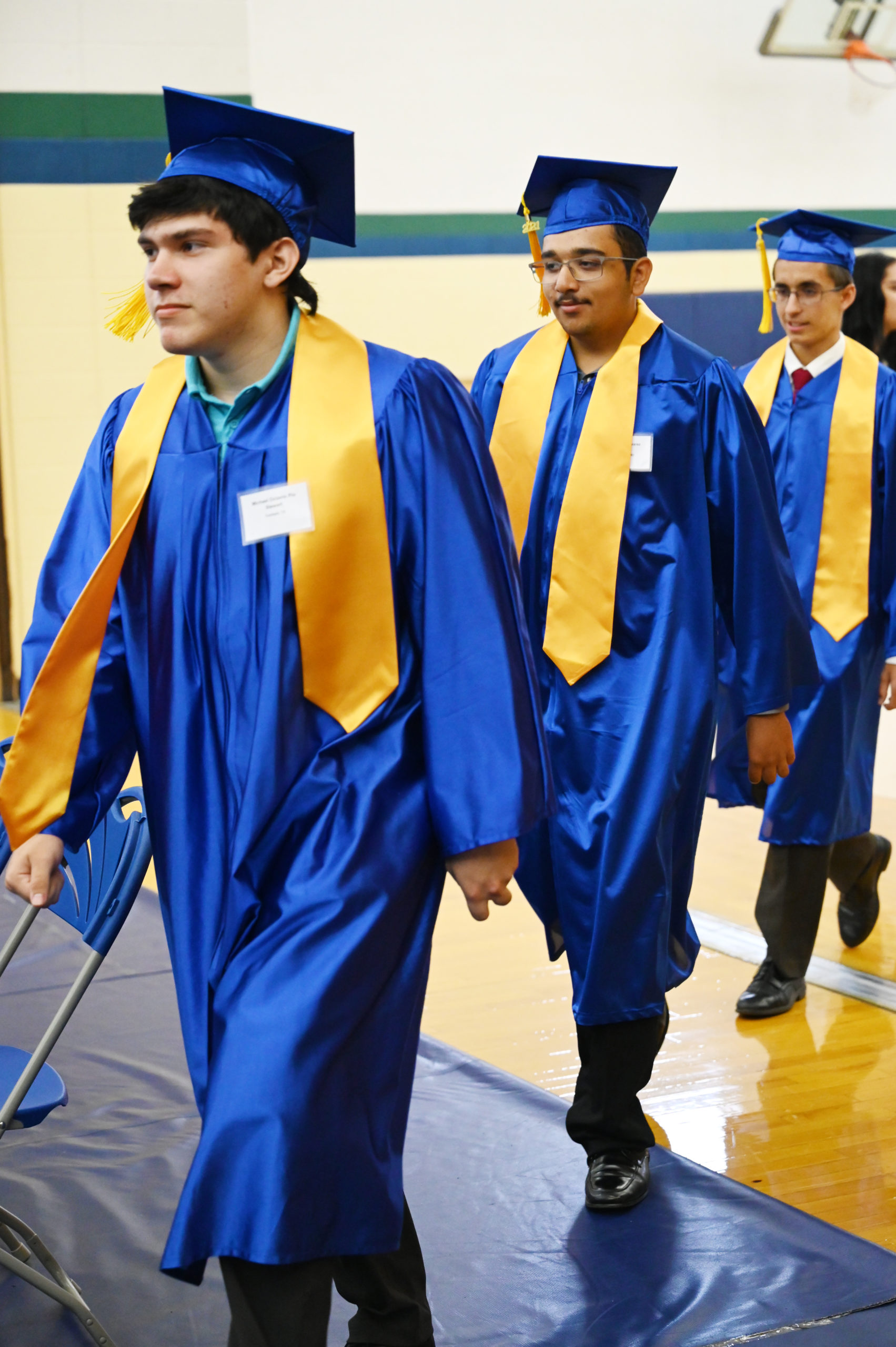 the basics of traditional religious painting. Erin McLaughlin wants to major in history at Christendom College and then study in Europe, and her long-time friend, Mary Rose Berquist, will attend Thomas Aquinas College and hopes to pursue a religious vocation with the Sisters of Life. Nate Bracy told me he'll be studying liberal arts at Thomas Aquinas College in Massachusetts with an eye toward becoming a software engineer.
The "Commencement Exercises Program" I have at hand lists the accomplishments and future ambitions of other graduates. Leilani Kathe, who currently lives outside of Boone, North Carolina, hopes to become a professional midwife. Johanna Jaracz is taking EMT courses and is already a volunteer firefighter and first responder. Elise Viles is off to the United States Air Force Academy, and Sean Connacher has earned seven certificates from the National Institute for Metalworking Skill and hopes to find work as a machinist. Other students plan to earn degrees in everything from electronic engineering to business, to enter the trades, or to work in the Church.
And when I asked the graduates I interviewed the same question, "In what ways did the Seton program help your prepare for your future?" almost all of them answered, as did Carly Richards, "It made me self-motivated and an independent learner." Christina Colombo gave a second popular answer to my question, mentioning that she qualified for Latin III as a first-year student at Hofstra because of "Seton's rigorous training."
The Big Day
By early afternoon on Saturday, these seniors, their family members and friends, and many on the Seton staff had gathered for the graduation ceremony at Skyline High School near Front Royal.
The graduates were soon decked out in blue and gold mortarboards, gowns, tassels, and stoles. After a brief practice in an adjoining room, the graduates marched into the gymnasium to Elgar's "Pomp and Circumstance," and then joined their families.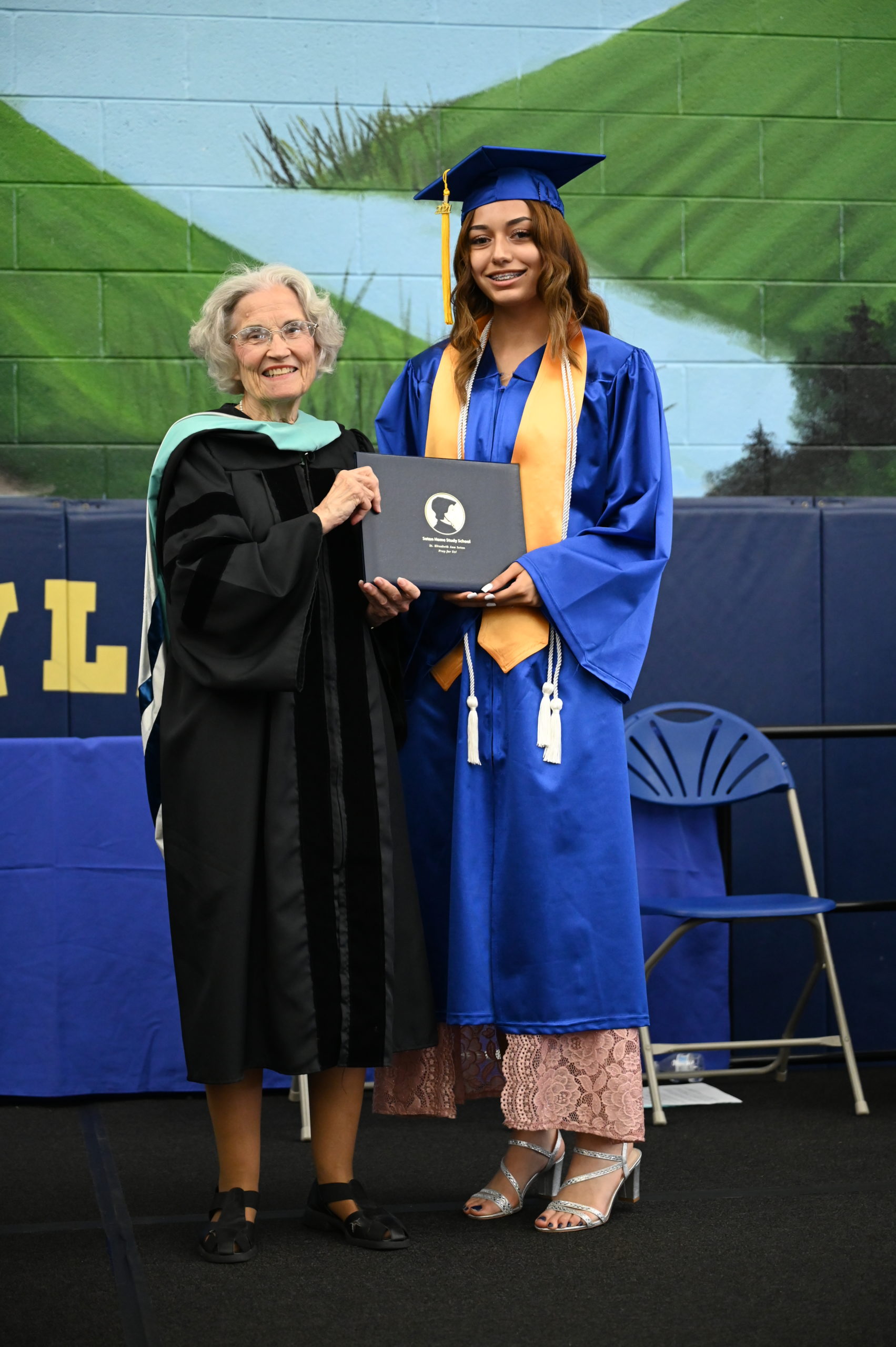 Father Daniel Gee of Front Royal's St. John the Baptist Roman Catholic Church delivered the invocation, followed by "Welcoming Remarks" from Seton Board member Mary Ellen Barrett. She led the audience in applauding the moms and dads who had "prayed and toiled" for these students, and because it was Independence Day weekend, she then asked veterans and first responders to stand and be recognized. She also graciously thanked Skyline High School for allowing this ceremony, mentioning that this was the first large indoor event at the school since March 2020, when COVID-19 restrictions came into play.
The Speakers
Next up to the podium were Seton students Maude Cloutier of Ohio and William Caffey of Texas. Originally from Canada's Quebec province, Cloutier spoke of her early struggles to learn English while she studied with Seton and how the freedom given her by homeschooling had allowed her to become an accomplished classical violinist. Caffey described how his parents had refused to allow him to be aborted because of supposed disabilities, briefly told the story of his family's conversion, and urged his fellow graduates to follow the mottos of the US Marine Corps special operations units: "Always faithful—always forward" and "Today will be different."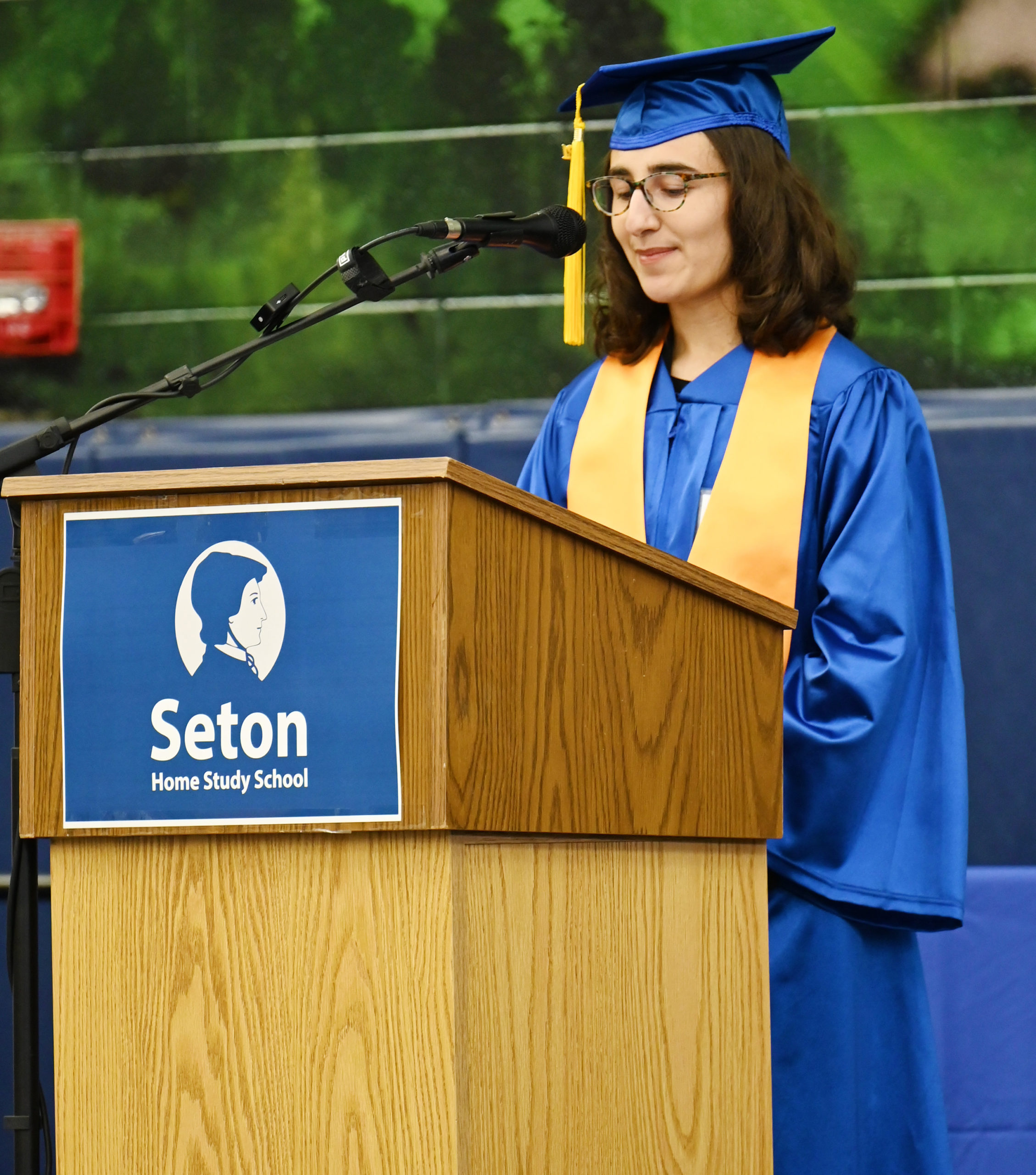 Seton's founder and director, Dr. Mary Kay Clark, next addressed the audience. She reminded students to remember all those who had helped them in their educational journey: their parents and mentors, the saints, Mary and Jesus. She stressed the importance of daily Mass and prayer, particularly the Rosary, and ended her address by having everyone rise and join her in singing "Immaculate Mary."
Dr. Ray Guarendi, author and radio and television host, then took the microphone. With his customary blend of humor and truth, he reminded the graduates to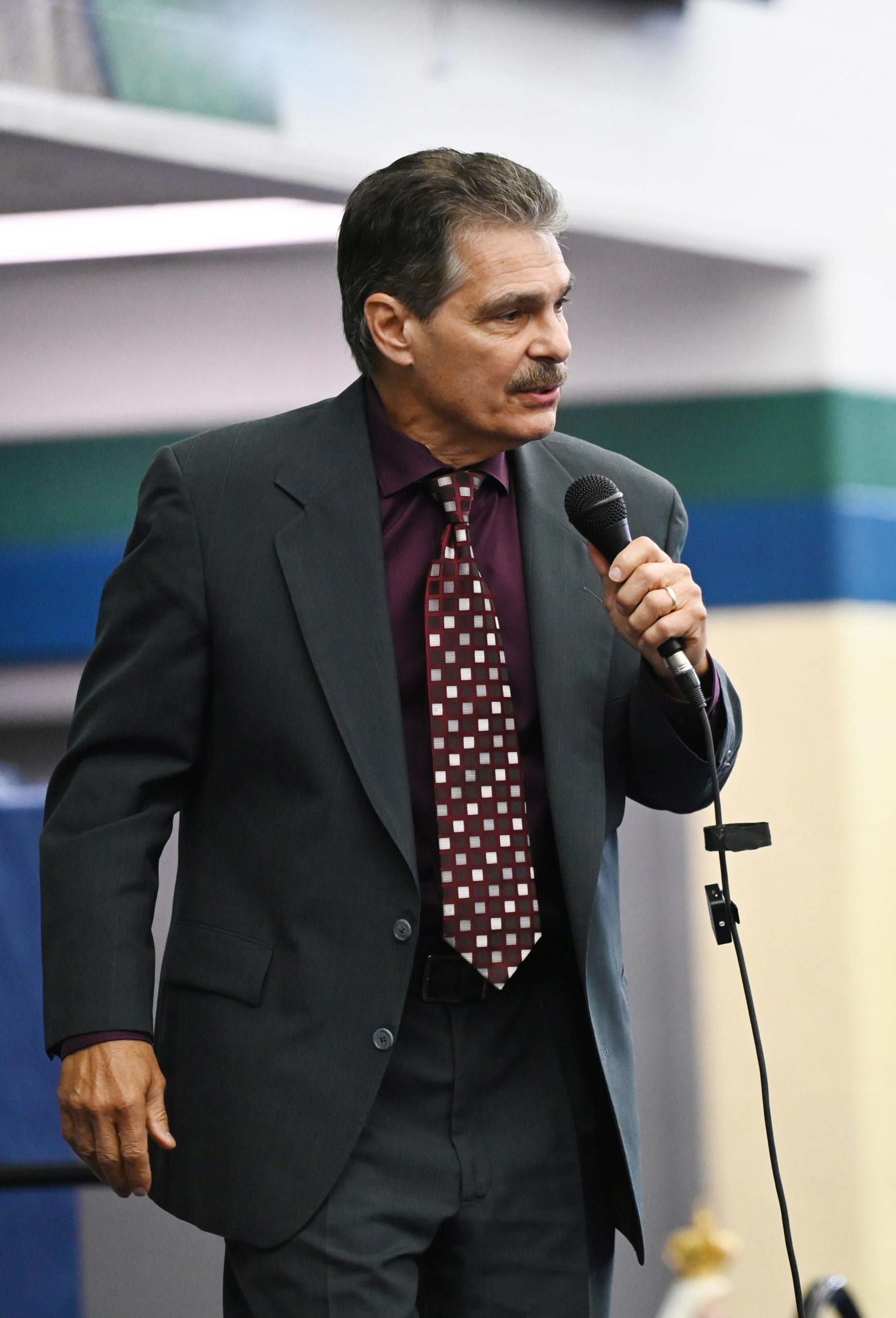 "give up the self-esteem" so prevalent in our culture and to practice humility. "The God of the universe says you are infinitely valuable," he told the graduates, "and you don't need the self-esteem promoted by society." He also asked them to "be unoffendable," meaning that most of the supposed offenses touted by individuals and by our culture are bogus. "Treat the people closest to you with kindness" was the third main point of his address.
To the cheers and applause of the audience, the graduates then received their diplomas from Dr. Clark, followed by Deacon Raphael Goldsmith's moving Benediction. Families then left the gymnasium to take pictures of their graduates in a special area set up in the lobby or to partake of the shrimp, sandwiches, barbeque, and other treats provided by a local outfit, Downtown Catering.
Personal Takeaways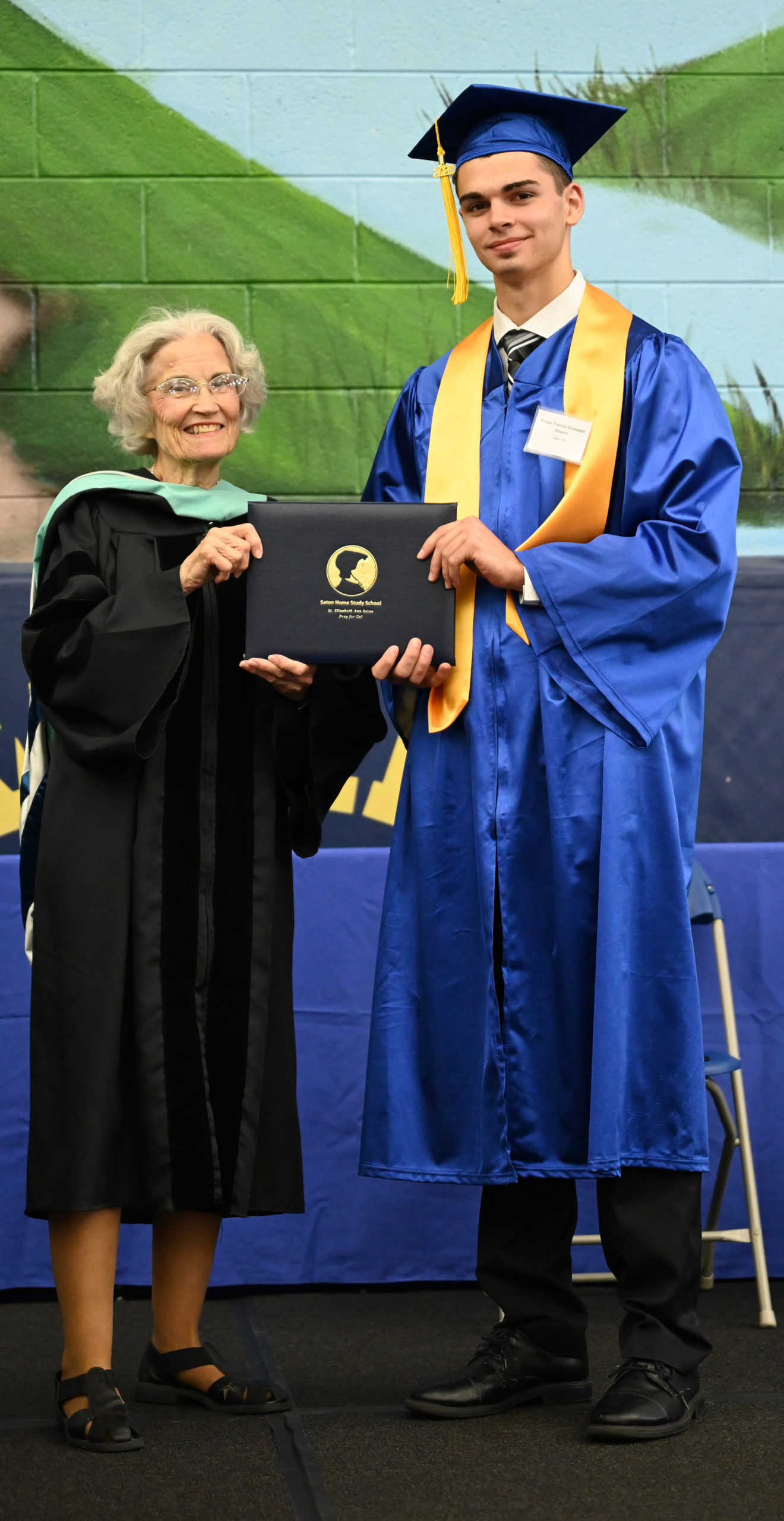 This graduation touched me more deeply than usual. Like others around the world, Seton families had lived through a pandemic for the last 16 months. Whatever our politics, whether we were living in the United States, Canada, the Philippines, or elsewhere, most of us would agree that the last months of pandemic and other chaotic events have been tough on a lot of people.
Yet the young people I met this weekend and, I am certain, those Seton students who couldn't attend graduation in person, provide an antidote to the pessimism, cynicism, and doubt of our present age, a tonic against the despair that sometimes seems endemic in our modern world.
With their faith, their knowledge, and their dreams, these teens deliver hope and the promise of better things to a fallen world.