Summary
This simple craft helps parents explain prayer and fasting to children while building anticipation for the upcoming celebration of Our Lord's Resurrection.

This simple craft is easy to make with the children. The activity part has marching and singing too, what's not to love about that!

Very importantly, it a fantastic way to explain prayer and fasting and the anticipation we feel while waiting for the Resurrection.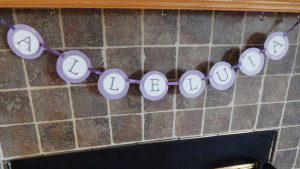 It's become a fun tradition in our home; I hope you enjoy it with your kids too.
Materials
• Holy Water
• Cardstock or colored paper
• Ribbon (about five feet)
• Hole punch
• A small box (my wooden box from the craft store, painted purple, has lasted about ten years)
• Colored pencils or Easter stickers for decoration
Directions
1. Print or copy the provided template. If your children are older, they may want to design their own banner.
2. Have them color the letters or decorate them with stickers.
3. Punch a hole in the top of each letter and string on the ribbon to make a garland.
4. If your box is plain, consider painting it purple and decorating it.
Gather the children and explain that the word Alleluia is rooted in the Hebrew expression meaning Praise the Lord and that Alleluia has always been associated with joy.
Now, since Lent is a somber time of prayer and fasting, the Church "buries" the Alleluia in anticipation of the Resurrection.
Burying Your Alleluia
It is traditional to have a procession carrying the Alleluia before burying it in the box. Consider having the children sing a hymn such as "Alleluia! Sing to Jesus!" while processing around the house or yard.
After your procession, place the box on your Lenten altar or conceal it somewhere in the home.
Hanging the Banner
On Holy Saturday, after the children go to bed, remove your banner from its box and hang it in a prominent place to celebrate the Resurrection. Of course, hang your banner before the Vigil Mass if that is when you go to church for Easter.
I do hope that this craft and activity helps your family, as it has mine, heighten the anticipation of Our Risen Lord in the closing weeks of our Lenten Journey.