Summary
If you assume Halloween began as a pagan holiday, think again! It's Catholic, and Amy Pawlusiak, a mother of five, discusses how you can reclaim Halloween.

In Tampa, there is a theme park with a very large Halloween attraction.

To advertise this attraction, the owners change the frighteningly ghoulish theme every year, and on billboards all over the area, my family is subjected to horrible, frightening photos displaying the new theme.

Therefore, whenever this time of year comes around, I cringe, because I just don't understand why so many people celebrate this holiday in such macabre ways. Some homes in our neighborhood decorate for the holiday as if it were Christmas.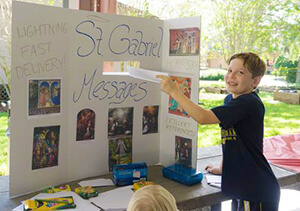 Orange lights, skeletons, witches, spider webs, you name it, are all over their front lawns. Sometimes, a home will even have a "haunted house" and invite the local kids to come in for a visit. Here I am, trying to live a good, Catholic, Christ-centered life, and all this foolishness is just making it harder. What should a good Catholic family do?
Halloween History: It's Catholic!
So, I decided to research Halloween so I could better explain it to my children. I assumed I already knew that it was based on a pagan holiday (those Celts!) and that I would have to teach them how we need to ignore it as much as possible. However, I was wrong.
I learned that Halloween was NOT based on a pagan holiday. It was originally based on All Saints Day (most of us know that "Halloween" was originally "All Hallow's Eve").
But, what I found most interesting was that the original holiday was Catholic! Scott Richert wrote an excellent article for a Catholic website on the Catholic origins of Halloween. Mr. Richert says:
"Despite concerns among some Catholics and other Christians in recent years about the 'pagan origins' of Halloween, there really are none. The first attempts to show some connection between the vigil of All Saints and the Celtic harvest festival of Samhain came over a thousand years after All Saints Day became a universal feast, and there's no evidence whatsoever that Gregory III or Gregory IV was even aware of Samhain.

In Celtic peasant culture, however, elements of the harvest festival survived, even among Christians, just as the Christmas tree owes its origins to pre-Christian Germanic traditions without being a pagan ritual."
In post-reformation England, Catholic feast days and other Catholic practices were openly condemned. Protestants thought Halloween and even Christmas had pagan origins, so they ultimately banned both holidays (the Puritan Parliament banned Christmas in 1647). So, the Catholics celebrating the saints on All Saints Day, or on All Hallows Eve, were discriminated against.
How Did It Make a Come back?
If Halloween was condemned, how did it come back? Well, it was because some good Irish Catholics and some other cultures continued to celebrate the Catholic holidays anyway, and brought them to America. Anti-Catholic prejudice at first condemned them for their feasts, but then the culture grabbed onto Halloween, and commercialized the heck out of it. This Catholic holiday has now become so commercialized that it is ultimately meaningless. Or is it?
Halloween Done Catholic
This is our holiday, so let's take it back! Now, I'm not saying you should go all-out on spiders and creepy things for Halloween, but I do believe there is a way to keep the holiday Catholic, while doing our best to avoid the commercialization of it (we have to do the same thing for Christmas, don't we?).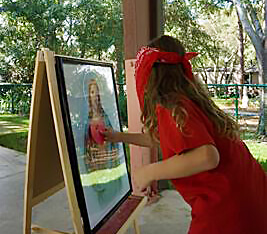 At home, we decorate with fall décor, like mums and pumpkins and scarecrows. We stay away from the spookier items, and embrace the saints instead. If you have older kids who want to embrace the more macabre aspects of Halloween, consider having them choose a brave martyr as the inspiration for their costume (e.g., St. Lawrence, who said, "Turn me over, I'm done on this side" as he was burned on a grill. There are so many other martyrs to choose from!). Or your children could make a picture of the saint's martyrdom.
Our homeschool group has an "All Saints Day" Festival every year. We encourage the kids to dress up as saints they admire. Then, we get together for some crazy games with Catholic themes. You should see all the kids playing St. Cecilia's musical chairs, St. Peter's fishing game, or my own booth, "Oh, When the Saints go Marching" (a cake walk). Fr. Bob, the priest who is our spiritual advisor, comes too and hangs out with us while we celebrate the day.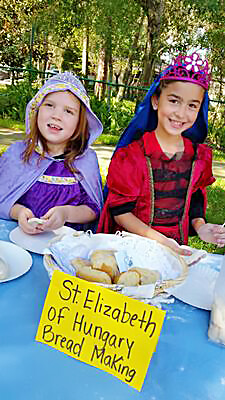 If you don't have a group, then celebrate the saints by playing some quirky games at home, and honoring the dead through prayers and home-made decorations. Whatever you do, focus on the saints and the Catholic Faith. Look online and tell your children the REAL history of Halloween. It's Catholic! As Jon Sorenson says:
"Evening vigils on the day before a feast or solemnity are customary in the Catholic Faith, and so Halloween falls on October 31 because it is the vigil before All Saints Day, and not because the Church wanted to 'baptize' Samhain or any other pagan celebration."
Halloween may mean macabre and scary or candy and horror films for many, but for us Catholics, it's a day to celebrate the evening before All Saints Day, the day we celebrate the Church Triumphant!
Celebrate their triumph within your homes, and help your children look forward to heaven, by making friends with those who have gone before us, our beloved friends, the saints!