2 minutes
Our Summer Simplification Project – Part 2
Welcome back, dear friends! Please, do come in!
I really hope you've been enjoying our Summer Simplification Project so far.
When we first moved into our home, we had 800 square feet of unfinished basement that served as, what I thought was , too large of a storage space for our needs. When some of our relatives needed to be taken in for temporary housing, our next logical step was to contact our builders to finish the basement.
The builders did a beautiful job creating four small rooms and a bathroom downstairs. When our relatives found permanent housing, we turned these rooms into a much smaller storage room, a playroom and a classroom/office.
But for today, we will be looking at what we did to simplify the children's playroom. The playroom is an integral part of our learning environment. In fact, we consider it a natural extension of our classroom. It is the room where the little ones have their own space to dream, wish, imagine, create and discover!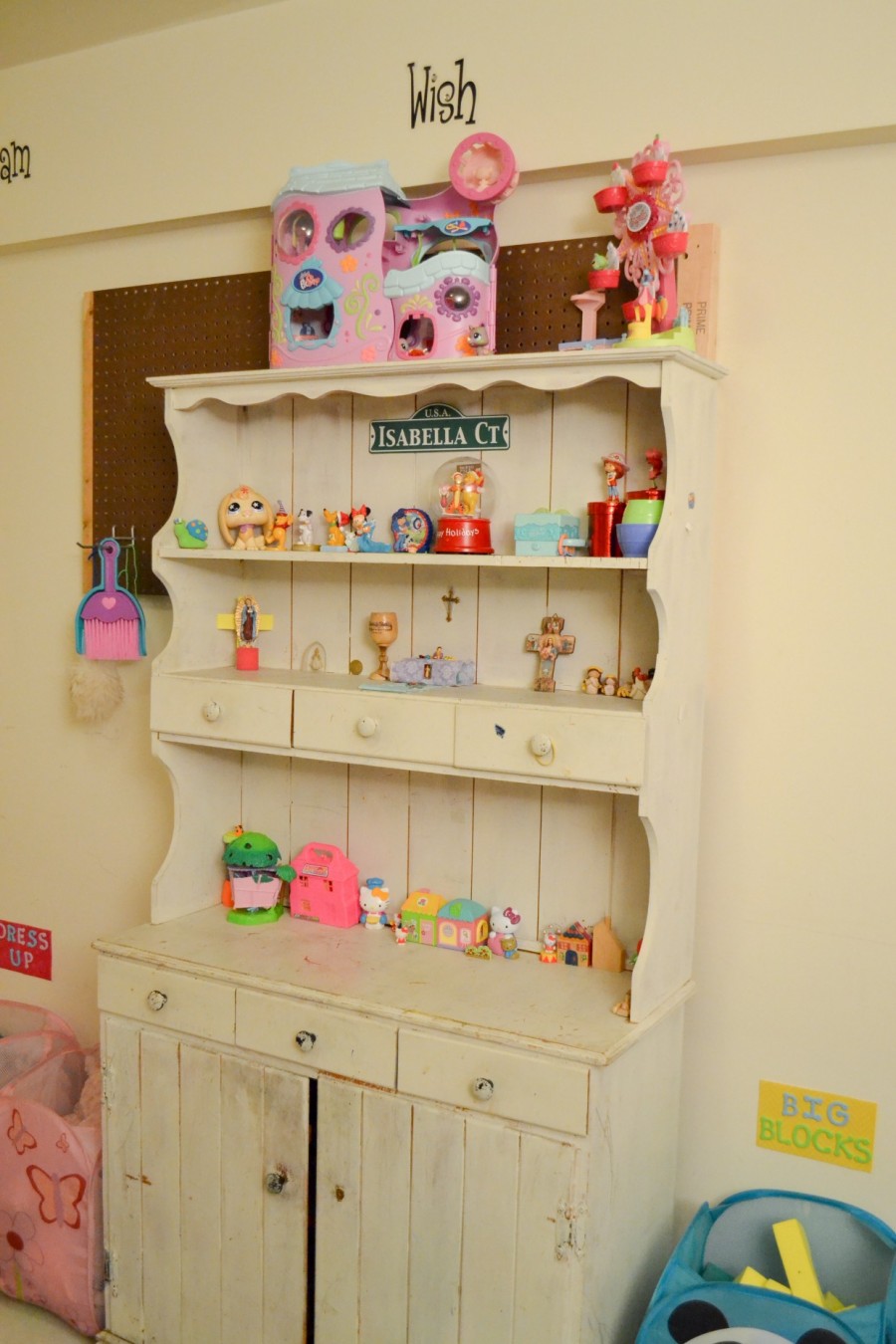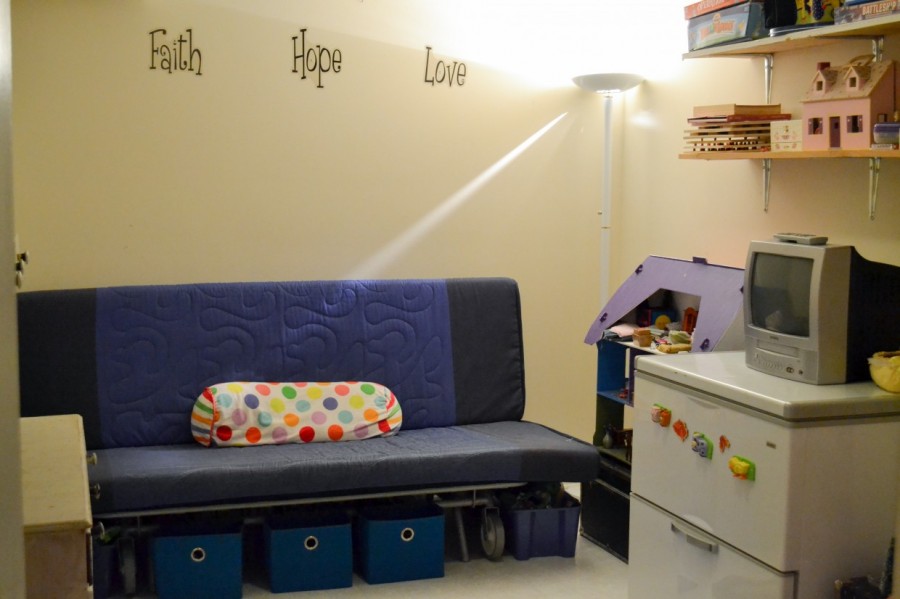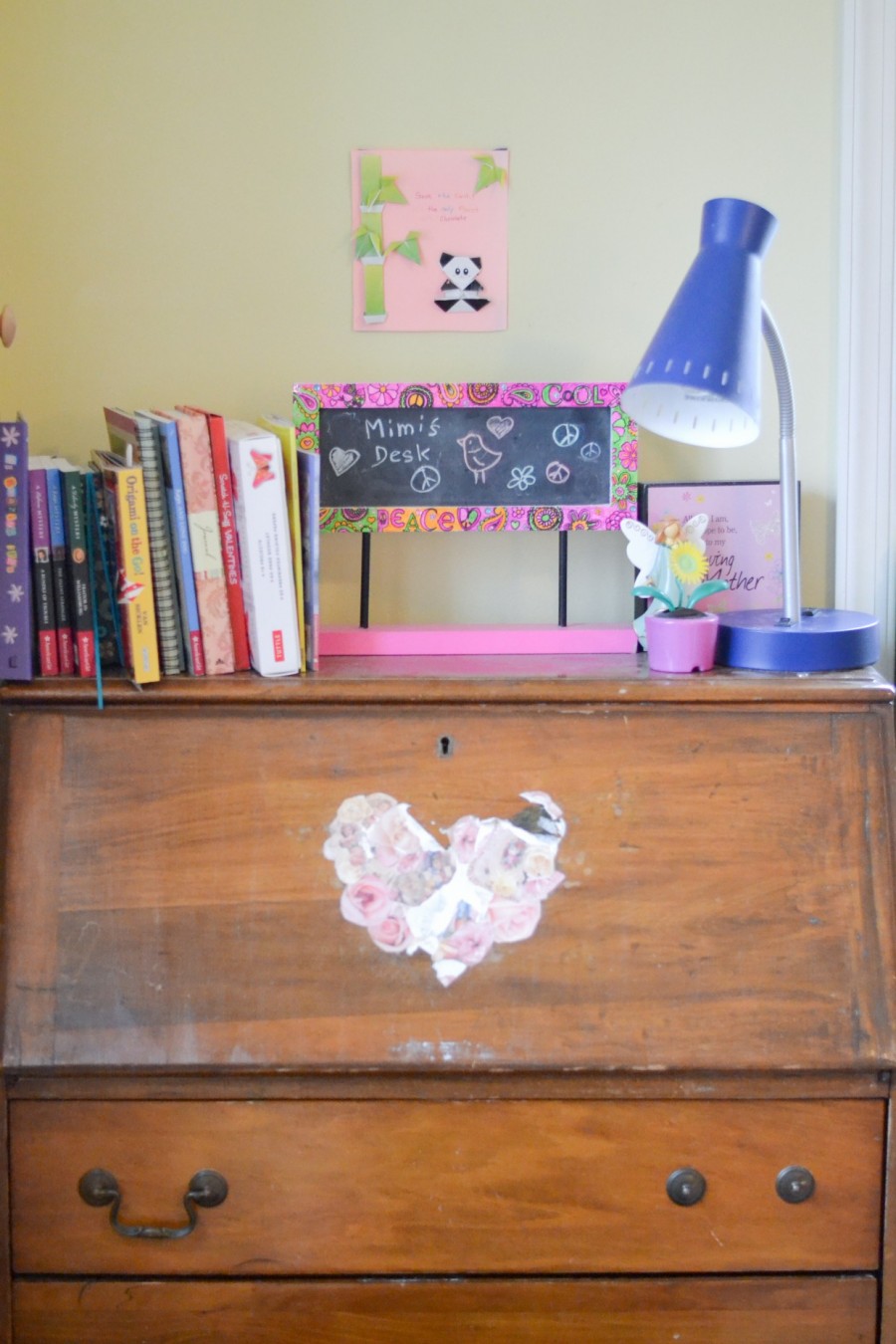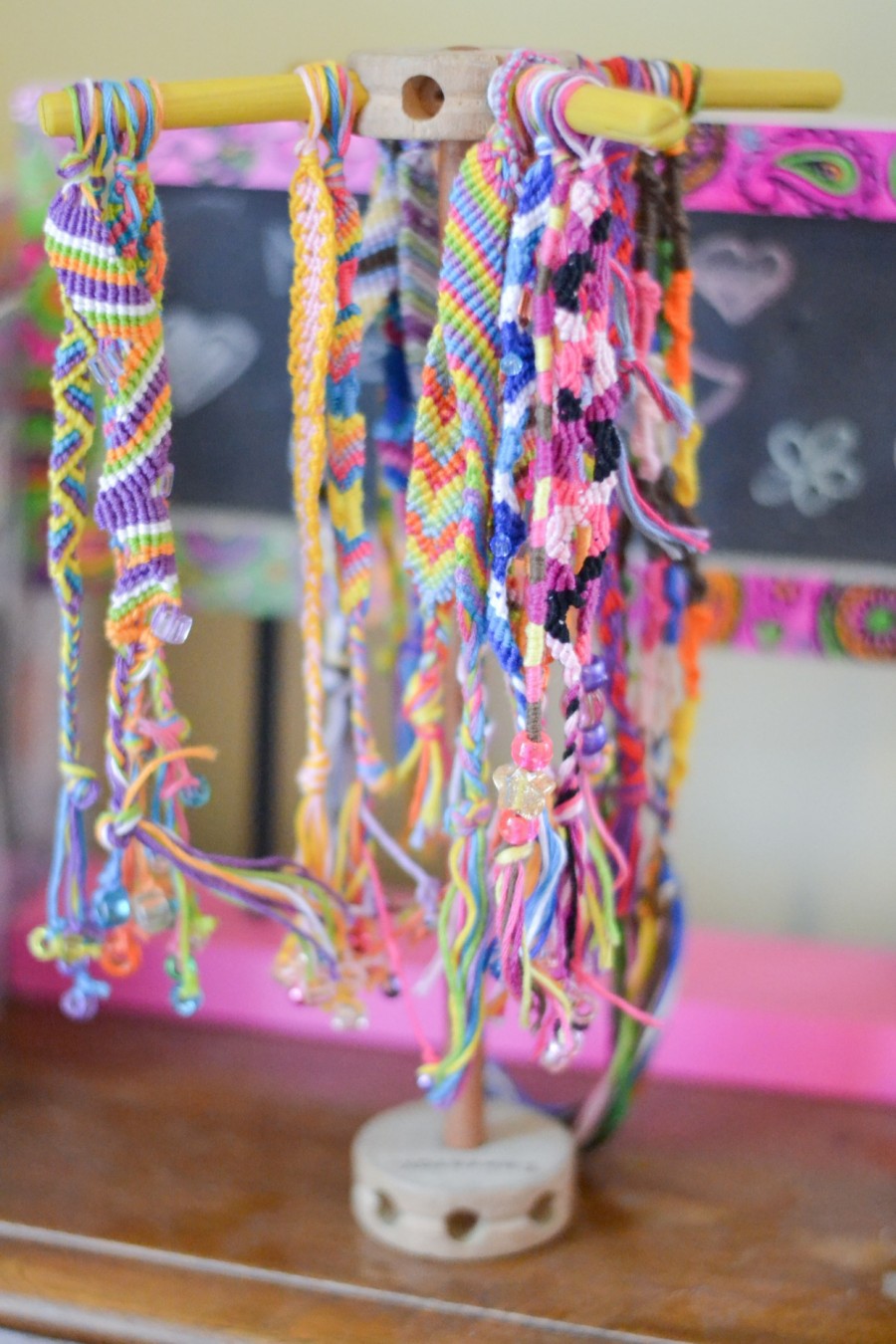 Simple Summer Cleaning Steps
Step 1 – Detach
This year, we particularly detached from:
excess puzzles and games
excess arts and crafts supplies
artwork/paintings that children didn't spend too much time creating
toys we had too much of
toys that haven't been played with in a long time
toys that do not fit inside their assigned containers
toys that are broken and we've been meaning to fix but haven't done so in years
It is important to start the habit of decluttering with little ones at least twice a year. The easiest time to do this is during Advent and Lent. Children are more likely to give things away knowing they need to make room for new toys arriving at Christmas and Easter. This is a good habit to instill in little ones and the earlier we start, the easier it is for both children and parents later.
Since decluttering with little ones in our home is never easy, we try to schedule a field trip or special activity shortly after the spring and summer cleaning season. Reminding children of this special trip encourages them tremendously and keeps them focused.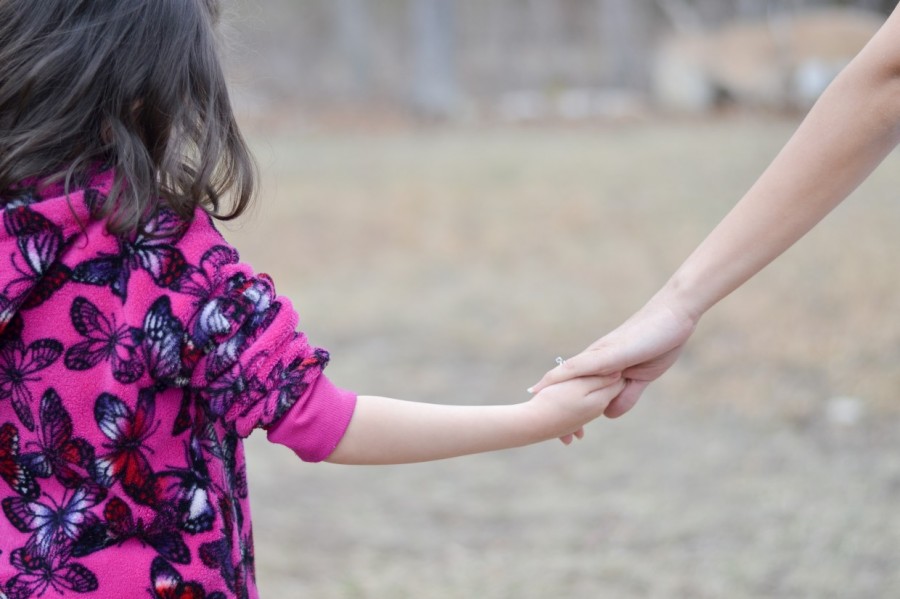 Oh and don't forget to celebrate milestones with the little ones, too. For every one bag of give-aways they fill up, they get to earn a small ice cream cone. It never ceases to amaze me how fast they fill up those bags as soon as they hear the words "ice cream" ;-)
Step 2 – Contain
It is important to have designated homes for toys so children can easily put things back in order after they're done playing. In our home, we use the following:
small bins
foldable toy hampers
shelves
drawers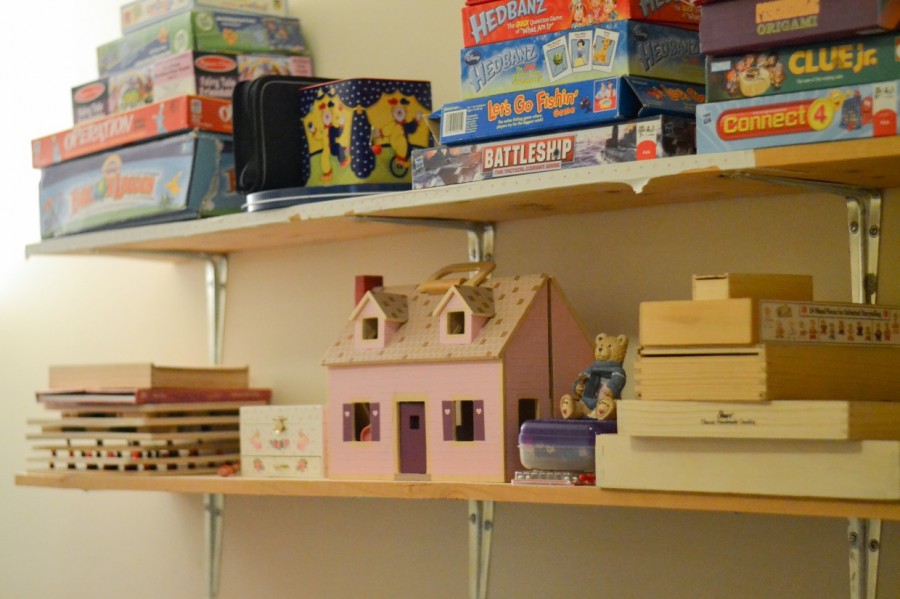 Games and puzzles are placed in shelves above. Foldable toy hampers below house children's dress-up clothes, plushies and big blocks. Small toys and collections go inside the small drawers of a wooden baker's rack that we purchased at a garage sale. The children also enjoy the shelves and use them as little towns in "Imagine World".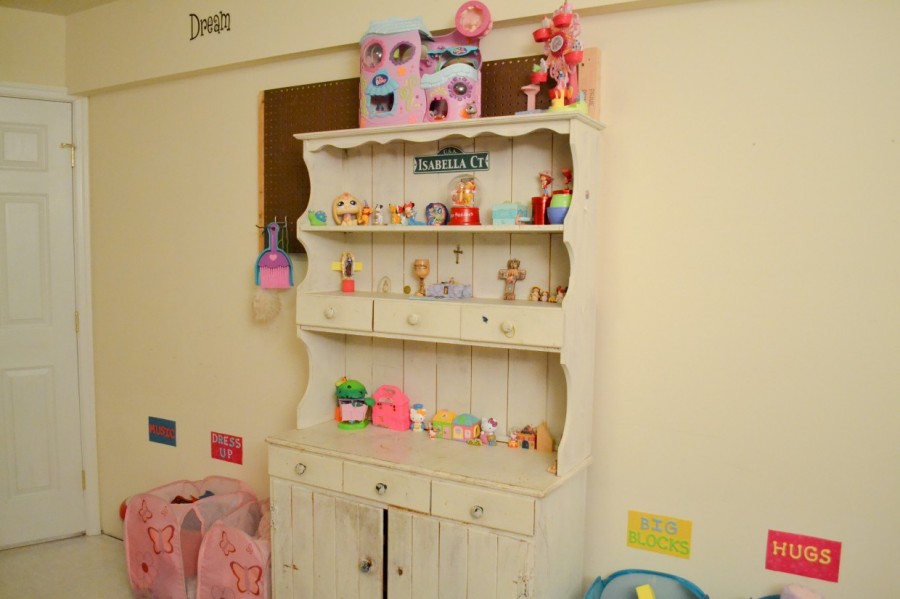 The bottom part of the baker's rack opens up and is a perfect place to contain the children's "Lego World"!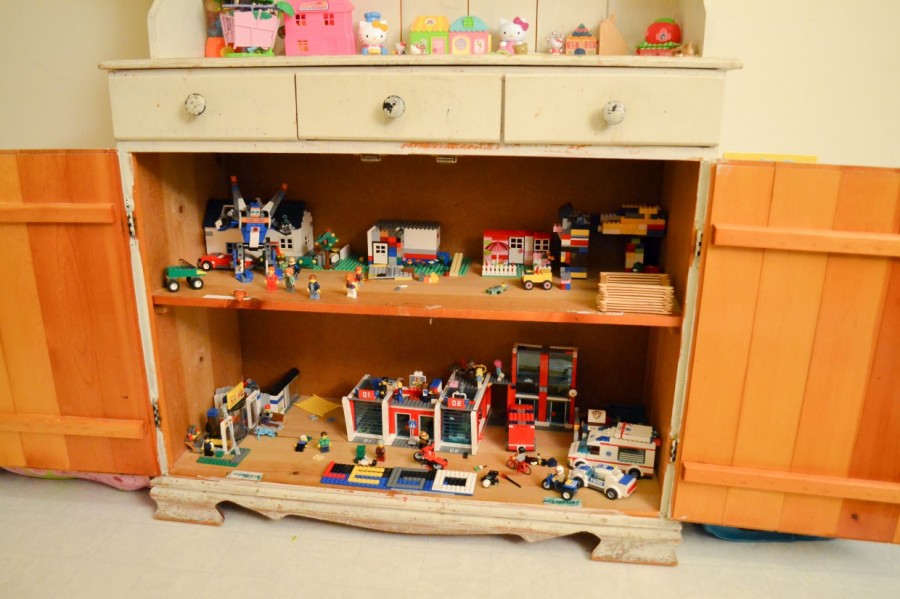 Step 3 – Systemize
One simple system that seems to work well in our home is to label our toy bins. If you have little ones who don't know how to read yet, feel free to use pictured labels instead.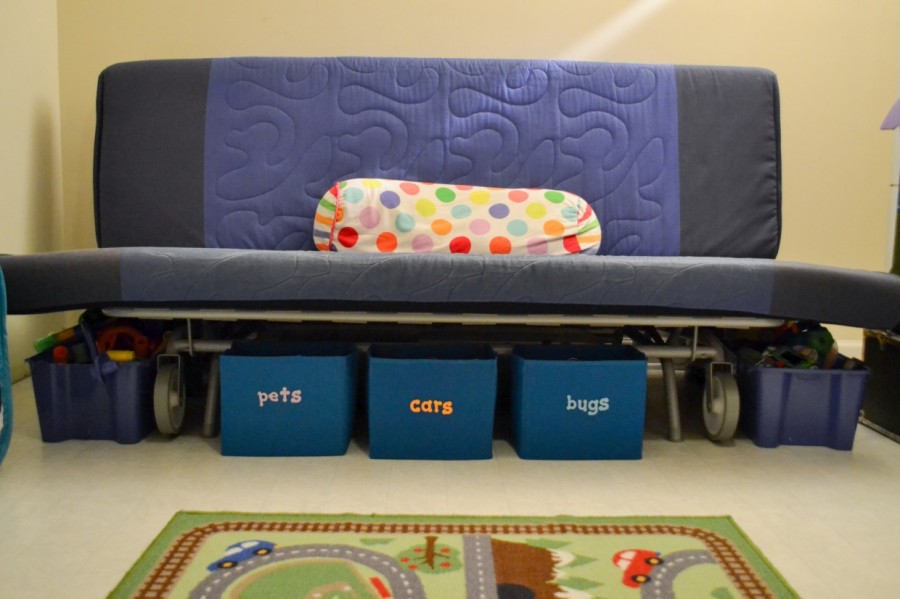 Another system that works well is applying the "Acquire One, Give Two Away" policy. This simple system keeps us from buying more storage containers when the number of toys get out of hand. The children know that we only have one container for stuffed animals. When they get new stuffed animals, they have to choose which ones can stay and which ones have to go. Keeping our containers static while its contents dynamic help keep the amount of toys under control.
Oh, and lastly, since we don't have television or cable, our DVD collection is alphabetized to the first letter for easy access!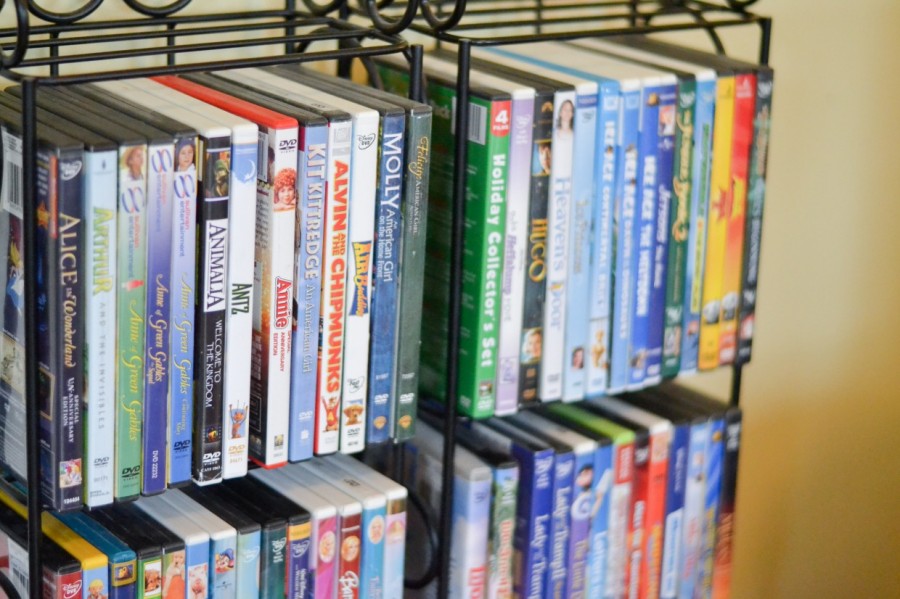 Until Next Time
I hope you enjoyed your visit. Next time, we will be looking at everything we've done to simplify our classroom/office downstairs.
Until then… Happy Summer Simplifying!
Photographs by Eliza Lois Photography