I've been asked to highlight one of my books. The book I chose is Revelation! 1001 Bible Answers to Theological Questions.
The structure of Revelation! is perhaps an "original" idea. But the format was "inspired" by The Question and Answer Catholic Catechism, written by my mentor (and the one who received me into the Church), the late great Fr. John A. Hardon, S.J.
He divided his book into major categories, then subcategories, and finally into 1,701 individual questions. His answers were relatively simple "catechetical" replies that present the basic Catholic teachings or "answers."
Likewise, my book consists of 18 broad categories and 200 numbered subcategories, under which the 1,001 particular questions are found, with each answer being a Bible passage. It was fun for me to compile.
Jeopardy
Its format might remind one of the popular TV game show Jeopardy, where contestants are given a piece of information and have to come up with a question that it is the "answer" to. While compiling it, I looked at Bible passages and devised questions that the passages "answered".
One of my specialties as a Catholic apologist is "biblical evidence for Catholicism" (the name of my blog). The idea for the present volume came to me in a flash. I was trying to conceive of a "different" way to present "biblical evidence" not only for Catholicism but for Christian theology in general.
The notion that arose in my mind was to simply provide Bible passages (usually one verse; sometimes a few together) that would be (in my humble opinion, anyway) the very best "answers" to a large number of one-sentence questions.
It's sort of a combination of catechetics (what Catholics believe) and apologetics (why we believe what we believe). As such, it is suitable for home-schooling and catechetical, Bible study, or RCIA classes.
Here is an example of one broad section, divided into sub-categories, with several questions (bracketed numbers) underneath each of those:
II. Doctrine of the Church (Ecclesiology) [152 questions]
12. Oneness / Unity of [6]
13. Holiness / Teacher of Righteousness [6]
14. Catholic (Universal) [10]
15. Apostolic Succession [5]
16. Authority to Make Binding Decisions [6]
17. Visible [4]
18. Infallible [4]
19. Indefectible [7]
20. Authoritative Councils [4]
21. Priests / Sacrament of Holy Orders [13]
22. Bishops [9]
23. Dispenses Forgiveness (Sacrament of Penance) [5]
24. Authority to Impose Penance [5]
25. Indulgences (Relaxation of Temporal Punishment) [1]
26. Celibacy: Heroic Calling with Less Distraction [3]
27. Excommunication and Anathemas [4]
28. The Papacy [24]
29. Denominationalism and Sectarianism; Division [15]
30. Sinners in the Church [16]
31. Beautiful and/or Expensive Church Buildings[5]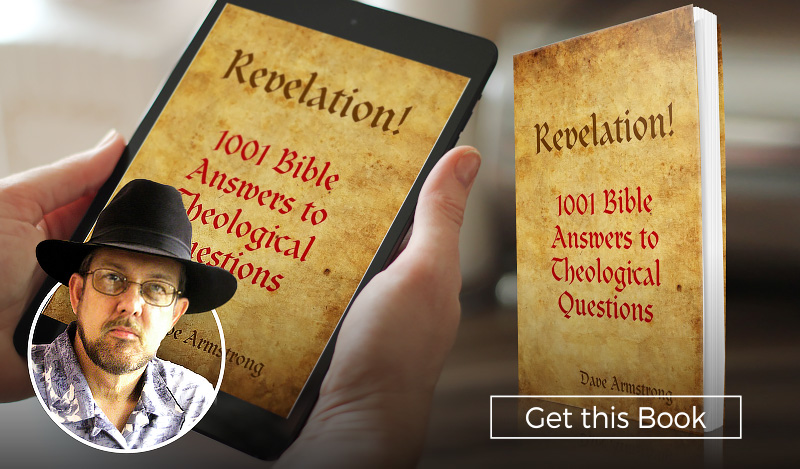 Various electronic formats $1.99 to $6.99
Paperback: $16.76
Free Sample
Here is Section 16 above in its entirety:
16-1. Does the Church discipline unrepentant or contentious individuals?
Matthew 18:17 And if he shall neglect to hear them, tell it unto the church: but if he neglect to hear the church, let him be unto thee as an heathen man and a publican.
16-2. Does the Church preserve "the faith" to which Christians are obedient?
Acts 6:7 And the word of God increased; and the number of the disciples multiplied in Jerusalem greatly; and a great company of the priests were obedient to the faith.
16-3. Does the Church offer a "standard of teaching" or "orthodoxy"?
Romans 16:17 (RSV) But thanks be to God, that you who were once slaves of sin have become obedient from the heart to the standard of teaching to which you were committed,
16-4. Are we commanded to be obedient to Church leaders?
Hebrews 13:17 Obey them that have the rule over you, and submit yourselves: for they watch for your souls, as they that must give account, . . .
16-5. Are Church elders to be honored?
1 Timothy 5:17 Let the elders that rule well be counted worthy of double honour, especially they who labour in the word and doctrine.
16-6. Are we to imitate Church leaders?
Hebrews 13:7 (RSV) Remember your leaders, those who spoke to you the word of God; consider the outcome of their life, and imitate their faith.
The Bible passages are in King James (KJV), because of copyright issues, with some in RSV when the KJV was archaic or less clear.
Apologetics is often about a "fresh" way to "re-present" ancient, true teachings. This was my goal in this book (and in many of my books): to try to make systematic theology interesting and inviting.
I think this volume can provide a need for quick, easy-to-understand answers, for Catholics, and as an aid in explaining our faith to non-Catholics who inquire about it.
It's also a simple way to become more familiar with and to better understand the Bible, which Holy Mother Church enthusiastically encourages us to read.
More Information
On the official page for this book you read the introduction and complete table of contents. This book is available in 6 formats, ready for any device you want. 250 pages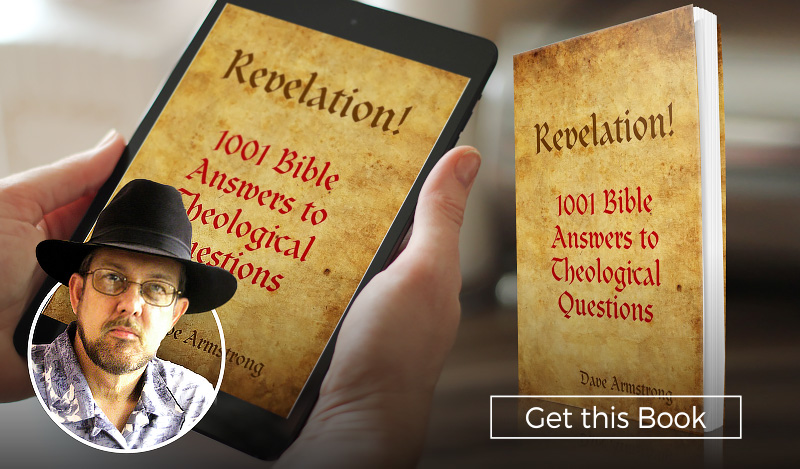 Various electronic formats $1.99 to $6.99
Paperback: $16.76