Our Cottage Spring Cleaning Adventure – Part 4
The girls' room is always a fun space to work with. Almost everything you see in this room was either given to us or repurposed in some way or another.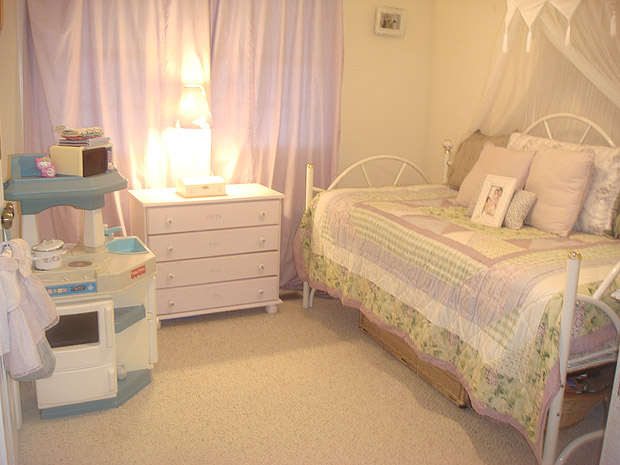 When Baby Girl felt she was ready to move in her sister's room, our challenge was to make them feel like they had their own "special space". This took a bit of creativity since the space we were working with was so limited. When Baby Girl is a bit older, we will eventually move a bunk bed in here to make their special space a bit more permanent. But we have to take things one step at a time. This Mama is not quite ready for any more changes. :-)
Simple Spring Cleaning Steps
Step 1 – Detach
This year, my girls detached from the following:
clothes that were too big or too small
clothes they are not attracted to
toys they have not played with in a long time
toys that no longer fit in their containers
Step 2 – Contain
Be creative with using spaces under the beds. This daybed, which I used as a teen and passed on to our girls, originally held a trundle.
But the trundle was too big for the size of the room, so we decided to pass it onto our neighbors next door. Because of this, we were able to fit several baskets underneath the bed.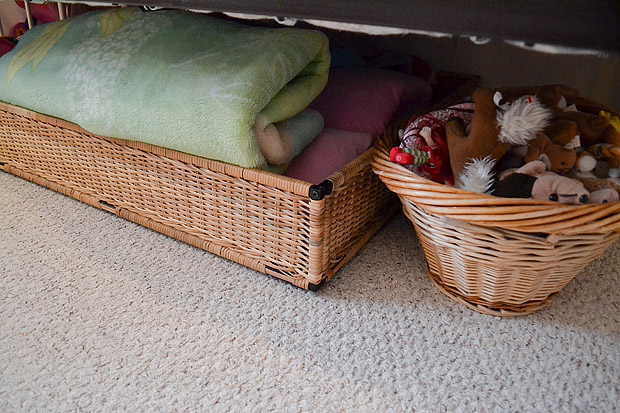 We used two laundry baskets to hold each girl's favorite things while the big basket holds extra pillows and blankets. And when the bed cover is down, you can't quite tell what we have hidden under there :-)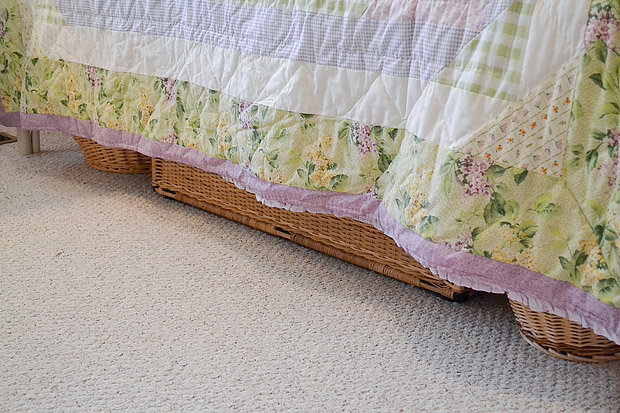 We also designated separate dressers for each girl but because of our tiny space, we had to make sure the dressers were not too large. We bought Big Sister's dresser from a dear friend who decorated homes and furniture as a hobby. Even if the dresser is not very wide, each of the three drawers is fairly deep and holds a majority of her clothes.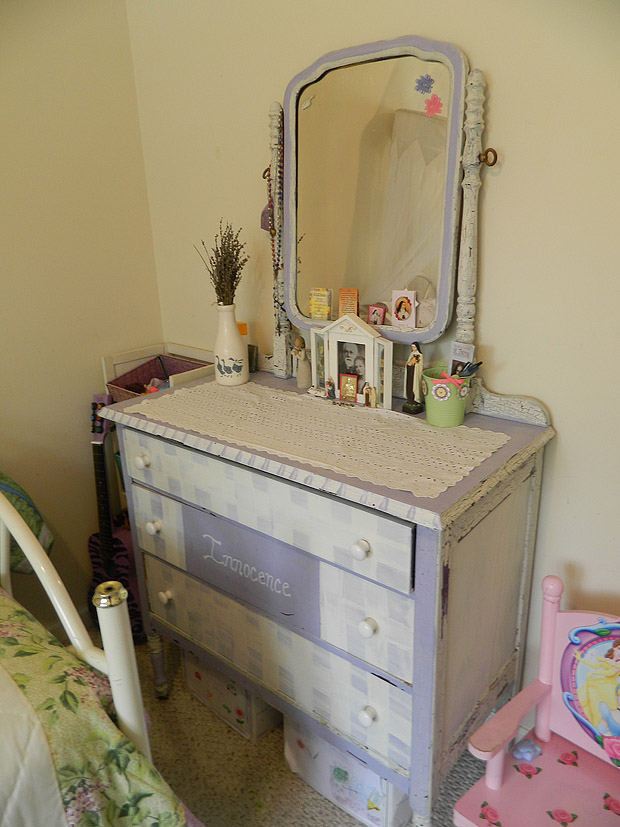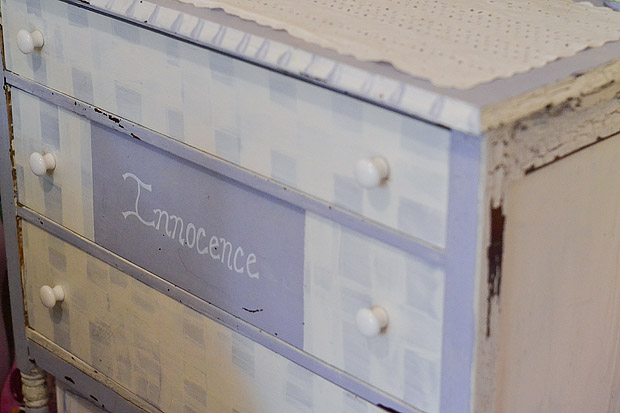 Baby Girl's dresser was a bit trickier. I found one at a garage sale, painted it, replaced the knobs and decoupaged the words "faith", "hope", "love" and "joy" on each drawer.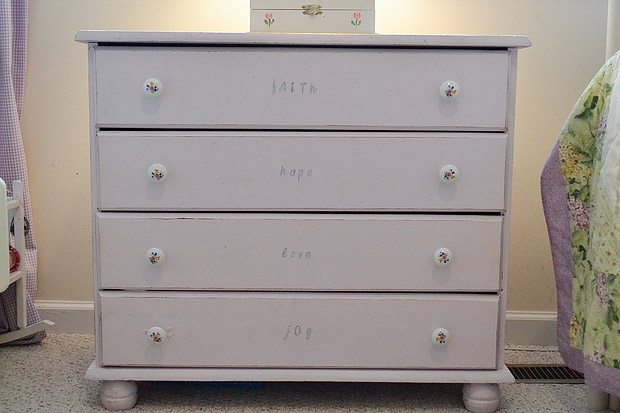 The dresser is not very large but all four drawers are fairly wide. Since we follow the "buy one, give two away" rule with clothes in general, this small dresser surprisingly houses most of her clothes for all four seasons. And the best part is that it fits perfectly in between the bed and play area.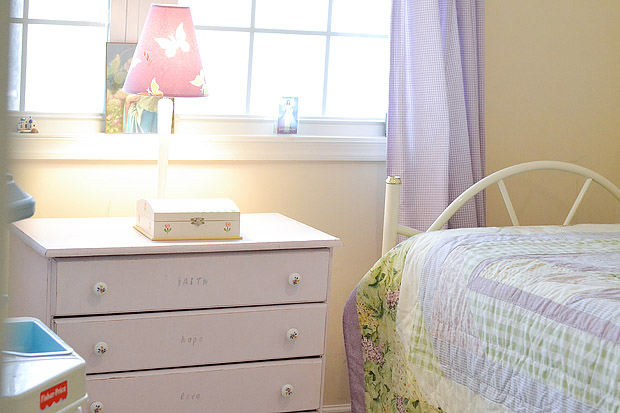 Step 3 – Systemize
One simple system we apply with the girls is to set limits on the amount of clothes they can store for possible future use. Big Sister is a budding teenager and when she receives clothes that are too large for her but she foresees using in the future, she keeps them in a box below her dresser.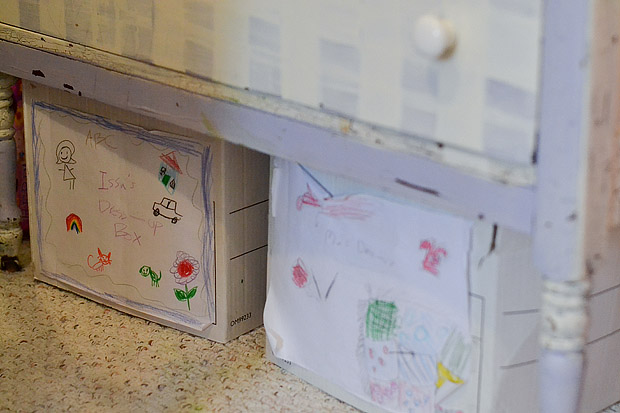 Baby Girl is also allowed to keep clothes she can use when she's "growed up". As long as it all fits into one box, they are allowed to keep the clothes. The point of this system is to teach children that it's okay to store things for the future but it's also important to set limits on the amount they can store. By doing so, they learn to share with others who could possibly use the items right now.
And as I had mentioned in my previous articles, while setting limits is great, we encourage them to keep some favorites as well. In our home, we keep two to three pieces of clothing they used when they were babies. If our Lord calls my children to the vocation of marriage, I think it would be sweet to see their babies wear the same thing their mommies wore when they were little.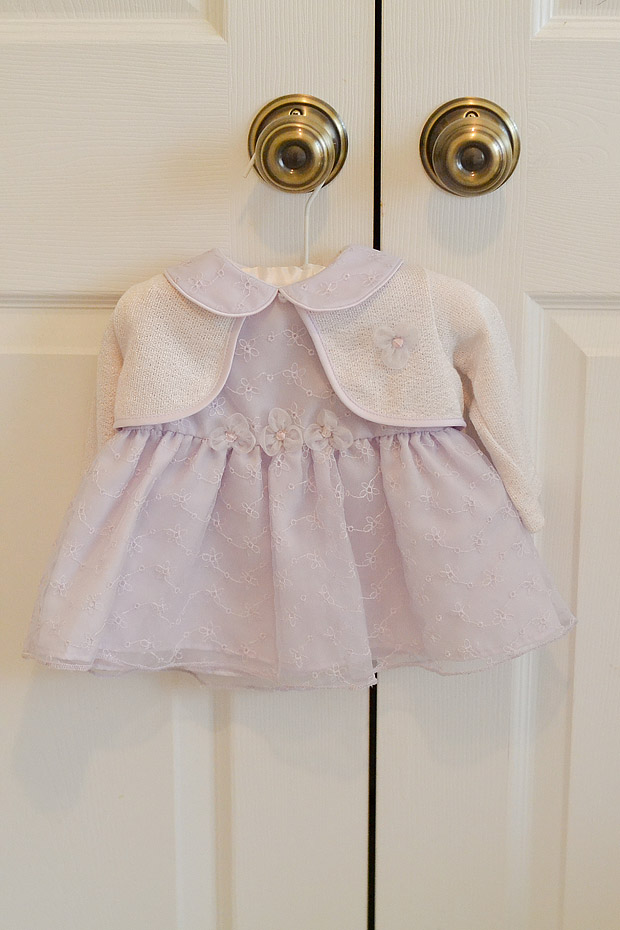 Until Next Time
In a couple of weeks, we'll be looking at the Boys' Room and the changes we made to accommodate my father's temporary stay with our family.
I hope you enjoyed today's quick tour and I'm looking forward to your next visit!
Until then… Happy Spring Cleaning!
Photographs by Eliza Lois Photography | Photographs 1 and 5 by Marissa Claire Photography