Summary
St. Dymphna lives on to comfort the nervous and emotionally challenged and her adoptive Belgium town is the model for innovative health care.

Dymphna was born in Ireland in the seventh century. Her father was Damien, King of Oriel (a confederation of Irish tribes), a pagan. Her mother was a devout Catholic. When Dymphna was fourteen years old, she consecrated herself to Christ and took a solemn vow of chastity. Shortly after her consecration, her much-beloved mother died.

Her father became deeply unstable with grief and wanted desperately to marry a woman who closely resembled his wife. Dymphna, fearing the loss of her purity, fled Ireland with her confessor Father Gerebran, two trusted servants, and the King's fool. They traveled to what is now known as Belgium and hid in the town of Geel.

Using the wealth she smuggled out of Ireland, Dymphna built a hospital for the poor and sick, working to help those in need. This use of her wealth enabled her father to hear of her whereabouts, and he traveled to Geel to claim Dymphna. Arriving in Geel, he ordered his men to kill Father Gerebran and demanded Dymphna return home with him as his wife. When she refused, Damien became enraged, drew his sword, and struck off Dymphna's head. She was fifteen years old.

King Damien left Dymphna where he killed her and departed from Geel. The residents, who loved her and Father Gerebran, collected their remains and laid them to rest in a cave.
Lily of Éire
Because she died in defense of her purity, she received the crown of martyrdom, was canonized around 620, and became known as the Lily of Éire. Many miracles and cures were attributed to this young martyr, and in 1349 a church honoring her was erected in Geel. After about one hundred years, the church was expanded to accommodate the many pilgrims who came for cures for mental illnesses. Pilgrims continued to come, and the residents of Geel took them into their own homes and cared for them during their stay, a tradition that continues today.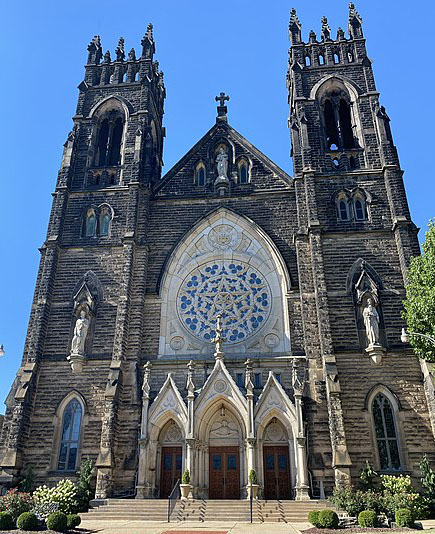 A fire destroyed the original church, but another Church of Saint Dymphna was built and consecrated in 1532 directly over the site where she was originally buried. It remains there, receiving thousands of visitors each year.
Saint Dymphna's remains are partially in a silver reliquary under the church's altar in Geel. The remaining relics are in The United States National Shrine of Saint Dymphna at St. Mary's Catholic Church in Massillon, Ohio. Father Gerebran was also canonized, and his remains were moved to Germany. Saint Dymphna is the patron saint of mental illnesses and nervous afflictions.
Her feast day is May 15th.
St. Dymphna, Pray for Us!
Download the free saint of the month poster designed by Emily Prause and drawn by Nathan Puray using the button below. You can pin it to your classroom wall or place it on your refrigerator to help your children learn more about Saint Dymphna.
Download Printable Saint Page
Click here for more Saint of the Month posters!