Summary
Homeschooling is an excellent, flexible, and affordable education and has helped the Seuffert family instill the important values of their faith and family.

When Chris and Elizabeth Seuffert decided to homeschool their children, they were following a family tradition established by Chris' mother, Ginny Seuffert.

Ginny is well-known to Seton moms as a homeschooling mother of twelve, an author, a speaker at homeschool conferences, and now, as a grandmother, who pitches in to help homeschool the grandkids.

Liz and Chris have been homeschooling since the beginning and are carrying forth the family tradition with their six children.
Why is homeschooling important to your family?
Homeschooling has helped us to hand down the important values that are part of our faith and our lives as a family.
We can teach our children the values that come with being Catholics that they would not get if they were in school all day. Times have changed, and the values outside our home have changed, too.
We also love the flexibility that comes with homeschooling. Getting six kids out the door early in the morning and driving them to school, I just can't imagine it, and, if you add keeping track of uniforms and lunches, it's even worse.
Now we have time to begin our day calmly, and if we want to take a day off to join a fun field trip or have an outing, we can do that.
Also homeschooling is much more affordable than the Catholic schools in our area. Now we have room in the budget for the extra-curricular activities and sports we enjoy.
What made you choose Seton Home Study School?
Although I was not homeschooled, two of my sisters were, and my mother used Seton. My mother-in-law encouraged me to look at the materials and see how organized and thought-out they were.
I went to a few conferences and looked at a lot of things, curricula and book choices, and Seton was so much easier for a mom to use. The work is organized, so that I could just open the lesson plans and start.
Once you've finished the work for one quarter, you just move on to the next at your own pace. The fact there was no Common Core involved also made me very happy.
How has Seton helped you with educational challenges?
Homeschooling helped us discover that our daughter Isabella is dyslexic. We were able to find the help she needed early because of the individual attention she receives in homeschooling. She's doing great now, and I don't think things would have been as easy to diagnose and deal with if she had been in a large classroom of children, each with their own difficulties.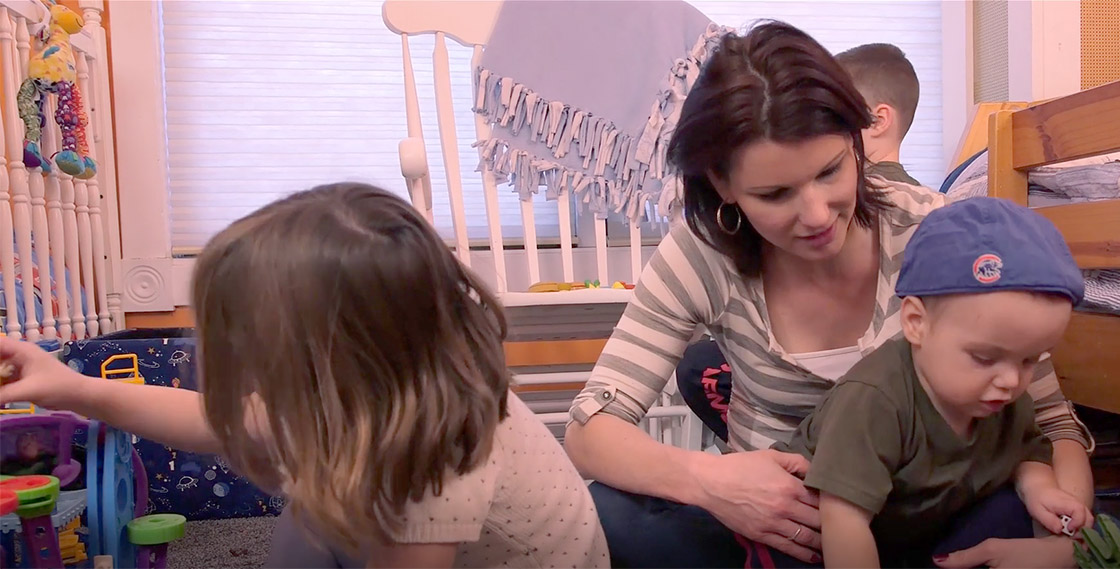 Our oldest child, Edward, is bright and is two grades ahead in math. We can suit the curriculum to his math abilities, whereas in a traditional school setting, he wouldn't be able to work at this advanced pace.
Another benefit is that our six-year-old, Christopher, would rather run and jump than sitting still. That's a very common situation in six-year-olds.
Homeschooling allows us to have shorter lessons, so he gets plenty of play time and lots of opportunities to run around, so he can focus better when doing his work.
What role does your Catholic faith play in your schooling and family life?
It's central to our homeschooling and family life. We begin each day with Mass, which is right down the block, and when we get home, we are filled with grace to get started on our school time.
Seton provides such beautiful Catholic materials in all subjects, so it's easy to make the faith a big part of the day.
How does a typical day go in your home?
I get up before the kids to get ready and fix breakfast. Everyone is dressed and fed, and we walk down the block to eight-thirty Mass. When Mass is over, we come home and get right to work, usually by nine o'clock.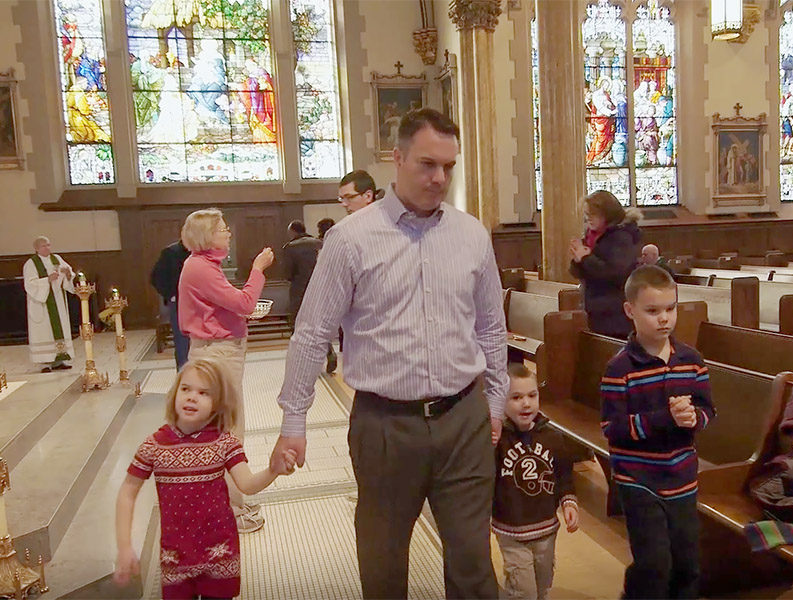 We work straight through until eleven-thirty, and then we break until about one. I try to get us out in the afternoons, if we can, and then we finish up anything that remains to be done. Children do better when there is a good schedule to follow.
What advice would you give to other homeschooling families?
Having an organized workspace makes a big difference. De-clutter and make sure you have a nice place to do the work every day. Homeschooling gets messy, and staying on top of that really helps.
A little structure helps your day to be productive. Getting dressed shows kids that what we are doing is important, and having set times for things lets them know what to expect.
Another important thing I would advise is to schedule time to get out once in a while. Go to the park, meet other moms, see people. It's important to make time to socialize and see friends, so you don't feel lonely.
Has your mother-in-law been part of your homeschooling?
She's been a huge help! When we started, our children were so close in age, I was overwhelmed at the idea of homeschooling. Having someone show you how it's done was so helpful. She taught Eddie first grade and taught him and Bella how to read.
Her support and encouragement were such a big help. I'm very grateful.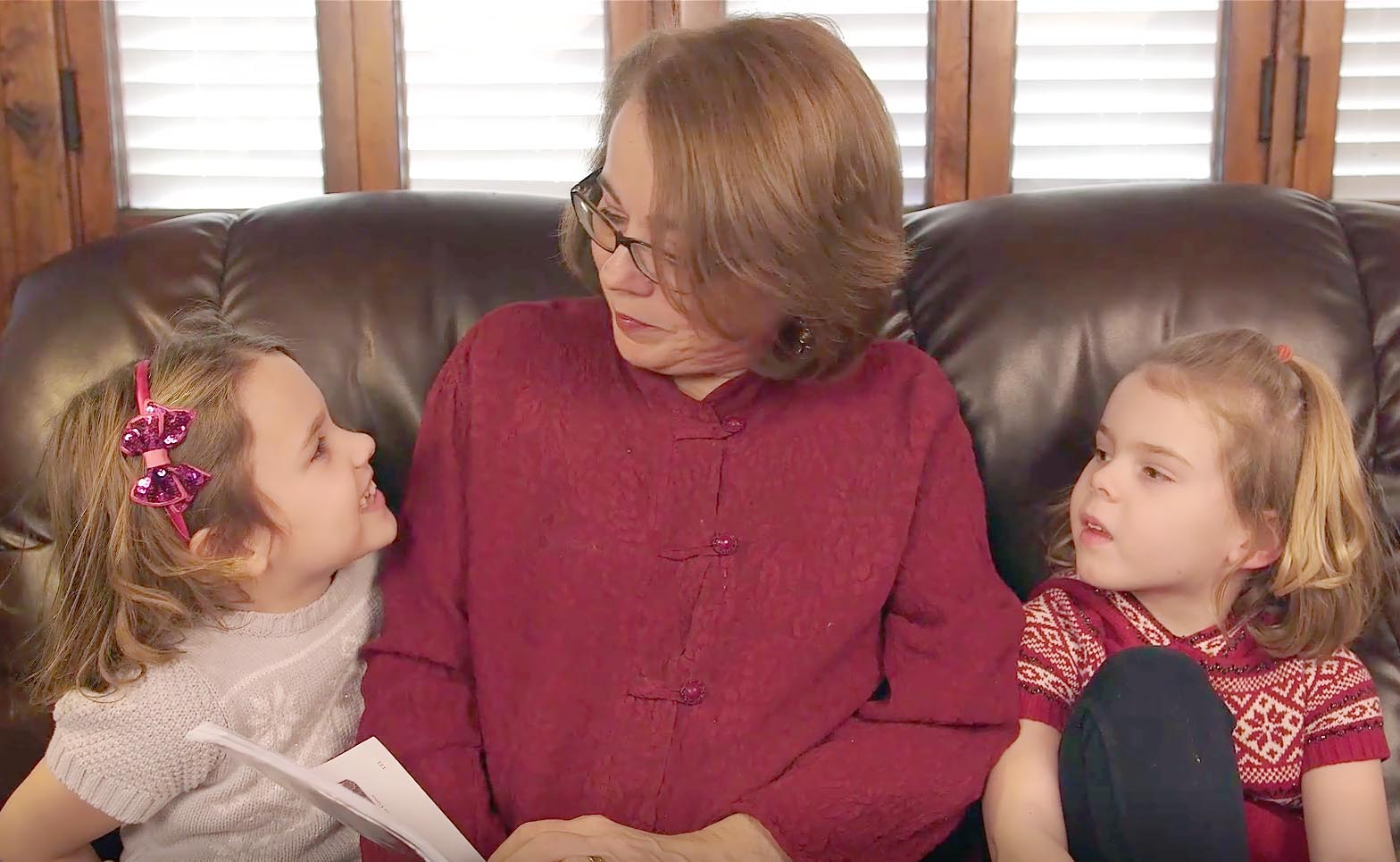 Grandma Ginny's Perspective
Why should families choose to homeschool their children these days?
I am convinced there are no alternatives for most people other than to homeschool. Even if there are good Catholic schools in the area, they are unaffordable for most families.
Homeschooling ensures young couples can teach their children all their subjects, ensuring the faith is handed down, without it costing tens of thousands of dollars each year.
How was it jumping back into homeschooling to help your son's family?
It was really no sacrifice to help my son and daughter-in-law when the time came to begin homeschooling their children. I missed teaching the young years, and there is nothing better than sitting next to a small child as they are reading to you. I love it.
So many young mothers have to have a job to pay back student loans or because property taxes are so high. I think it's important for grandmas to pitch in and give support.
What Seton benefits do you highlight for those new to homeschooling?
Seton makes it easy for families to cover all the subjects and get an excellent education, since all the planning is done for them. When families keep switching learning programs, mothers are always re-inventing the wheel and learning the new program.
The consistency of Seton and sticking with it ensures Mom and Dad are never overwhelmed, always have the right books on the shelves, and know what to teach and when. Seton provides so much support that, if there is a problem, you can just call and receive all the help you need.
Do you have any other advice?
I saw my own grandmother every day when I was growing up. She lived on the same block and was a large part of our lives, always helping, always supporting.
It was a very family-oriented culture, which we need to get back to. Grandparents must stop moving away from their children and help out when the grandkids come, so the family can thrive.