Summary
As Seton Class of 2019 grads and families gathered for an afternoon of popcorn, pizza, and making new friends, they shared their plans and dreams with us.

It's the Friday before Memorial Day Weekend, and the weather is smiling on the Virginia countryside.

Here are blue skies dotted with clouds, a bright sun, and a wind from the west strong enough to carry the heat away.

On this day, dozens of families, all sporting at least one high school senior, have gathered for the annual pre-graduation party at the headquarters of the Seton Home Study School.
Meeting Friends Face to Face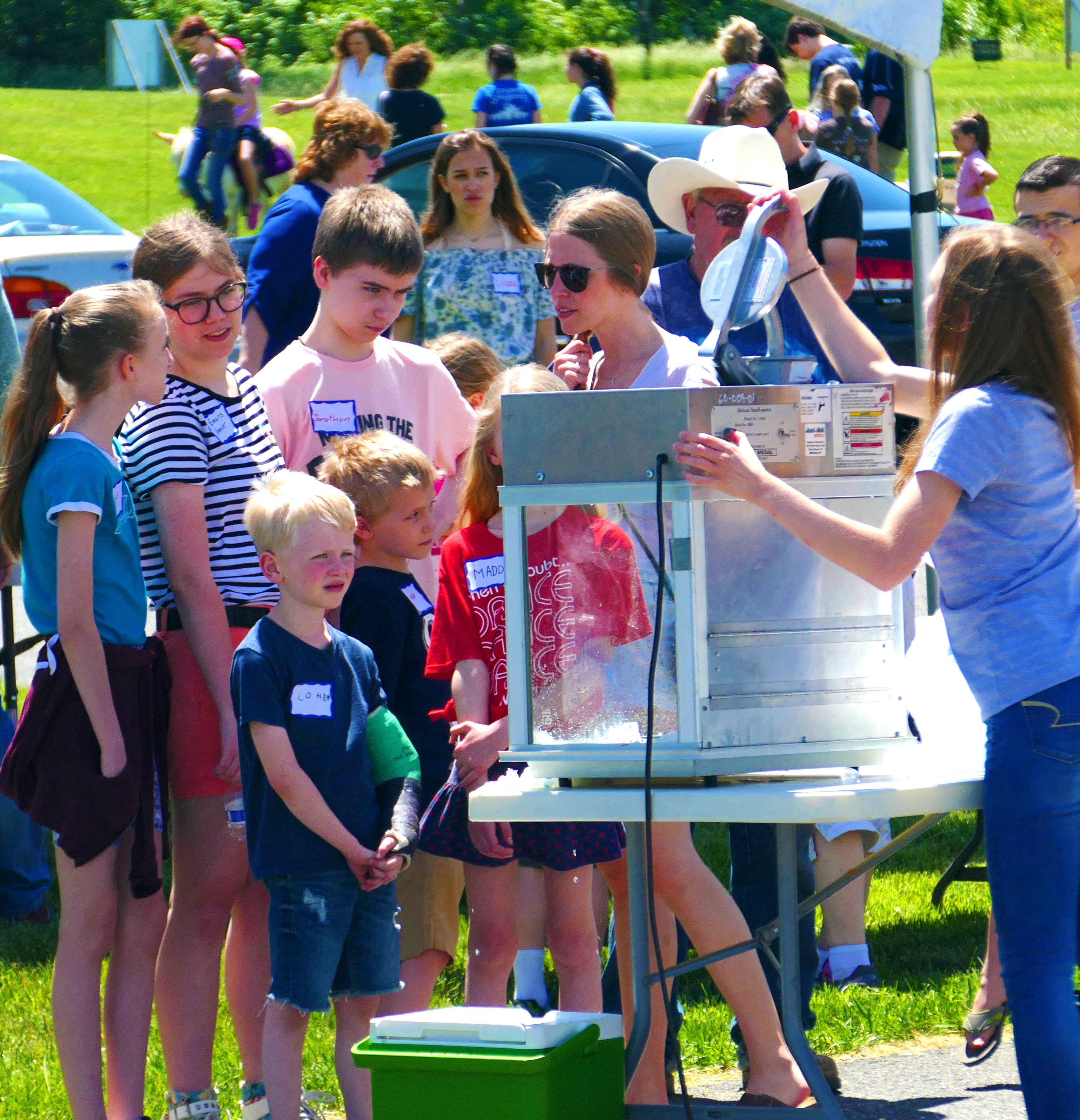 It's the first event of a weekend in which Seton plays host and pays homage to all its graduates and their families, both those present and those unable to attend the celebration.
Here are pony rides and bouncy tents for the little ones, wide fields for throwing footballs or playing soccer, canopy tents offering shade, a popcorn stand, a Sno-Kone machine, coolers filled with soda, juice, and water, and tables holding 180 pizzas (vegetarian, of course, since it's Friday).
Here are Seton representatives visiting with parents and students, answering questions and conducting tours of the Seton building from Admissions to the Shipping Department. Here are friends meeting friends face to face for the first time, links forged on Catholic Harbor, Seton's social network for students.
Plans and Dreams
We thought you would enjoy this sampling of comments from the attending graduates about their future plans.
Mark May of Middletown, Delaware, was enrolled with Seton from kindergarten through graduation. He will begin classes in the fall at the University of Delaware, where he plans to double major in accounting and finance. Eventually Mark hopes to work as a forensic accountant, a position that involves tracking criminal behavior through financial records.
Next up is Veronica Wick of Stockton, Missouri, who will attend the College of the Ozarks, where she currently plans to study nursing. Veronica spent five years with Seton.
Katie Ahrens, another K-12 student from Austin, Texas, is taking a gap year after graduation while she sorts out her plans. She will continue to work as a cashier at HEB, part of a grocery store  chain in Texas. When prompted by her mother, Katie explained she was taking the gap year because she was graduating from Seton at the age of sixteen. Her mother then explained that Katie had already earned 59 college credit hours from her local community college, which she first entered at age 13 as a dual-enrollment student. Here Katie interjected, "Seton is much tougher than those community college courses."
Joseph Scarlata of Mechanicsville, Maryland, a student at Seton since third grade, will be stepping through the gates of Christendom College in the fall.
After eleven years with Seton, Emily Libertella of Rome, New York, will enter Herkimer Community College. Emily hopes someday to become a marine veterinarian, and will continue to sing, dance, and act in the plays and musicals of her local community theater.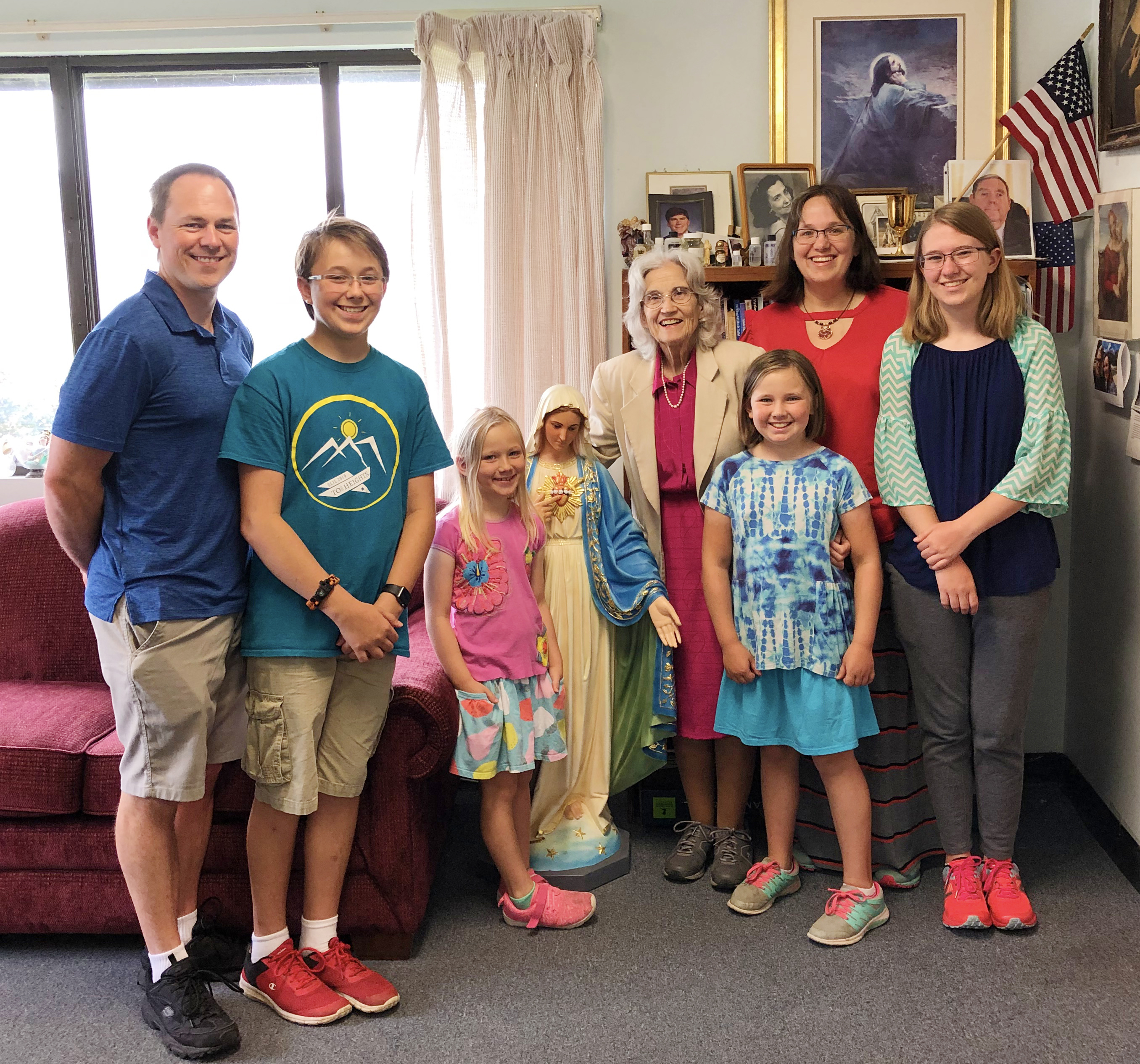 With Seton since eighth grade, Mary Schwartz of West Hartford, Connecticut, will attend the Catholic University of America where she hopes to study philosophy, an interest that rose in part from her study of Catholic doctrine in the Seton program.
Anthony Burkhard of Cleveland, Wisconsin, will join the first class of the eastern branch campus of Thomas Aquinas College, opening in Northfield, Massachusetts, this fall.
At least two Seton graduates plan to pursue classical studies. Isabella Colombo of Mahwah, New Jersey, is entering Hofstra University to study classics, with the intention of eventually becoming a philologist.
Emma Palmer of Fort Benning, Georgia—her father is in the Army, and the family will soon be stationed in California—will be at the University of Dallas studying English and Classics. Emma pointed out that the Seton program was particularly beneficial to military families "because my dad moved so much, and we could take Seton with us."
The Rembadt family of Sturgis, Michigan, will use this Seton graduation in a special way. Though Cecilia and Andy have technically graduated from Seton, they were unable to participate in the Seton ceremony the year of their graduation. Now they will march across the stage and receive their diplomas along with their brother Joseph to honor their father, who died this past year.
Cecilia is a student at Glen Oaks Community College, Joseph is taking a gap year and hopes to discern his future while keeping up his songwriting, and Andy, who also is discerning his future plans and is interested in agriculture, will continue working for a large farm.
Ready to Defend Their Faith
When asked how Seton had helped them prepare for further education and for life, all of these young people gave nearly identical answers. They were grateful for their religious education, which will, they said, help them defend their faith both in college and the workplace. All of them praised the rigorous Seton writing program.
Finally, all of them stressed how Seton and homeschooling in general had made them independent learners, to become, as Emma Palmer put it, "pro-active in our education."
Talking to these graduates, listening to their dreams and ambitions, seeing them and the other graduates taking pleasure in this day with their friends and family, all of whom are beaming with pride at their students' achievements, brings a sense of great hope for the future.
These young people are the leaven, the mustard seeds, from which good things will grow.
God bless all of you graduates.