Download this Coloring Page!See the Colored Version
Caption this image! What are the children saying? What is the mouse thinking?
Share your child's comment below!
What could be more fun than coloring a picture? Sharing it with someone! Why not encourage your child to send it to their grandmother? Or parish priest? Or someone they appreciate? Each week, connect with a loved one through your children's art, and then share with us where it went! We'd love to know!
Parents can use this occasion to teach children how to send letters, write addresses, and from an early age become accustomed to this oft-forgotten art. Fill in the 'To' and 'From' fields on the picture, and come back to this post to share with us its destination! Drop your comments below.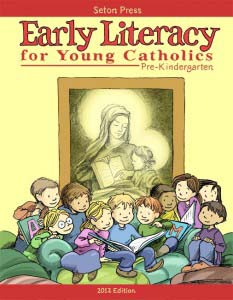 This coloring picture is taken from 'Early Literacy for Young Catholics: Pre-Kindergarten'. Full Color. 246 pp. Remarkably illustrated and filled with hundreds of exercises and activities that make learning fun. Introduce your child to the wonders of God's creation. Our Catholic Faith is an important part of the exercises.
More information on Pre-K Enrollment?
Fully Catholic Kindergarten Program here!