Meet the Adams family. They are all about service. Captain and Mrs. Adams have a son and daughter in the Navy, another son in the Army, and a daughter who has joined the NROTC unit at her college. Captain Adams has honorably served in the Navy for 26 years. Mrs. Adams believes that "Seton has helped all of my children obtain an elite Catholic education" and that the "values taught in the Seton curriculum… reinforce the traditional military virtues of duty to God and country."
Then there is the Mills family with two children, Ben and Summer. Ben was diagnosed with a rare heart condition while in the womb and has had to undergo various medical treatments, including a heart transplant. When Ben needed more support than regular school could provide, he began to homeschool. Aside from reading, writing and arithmetic, Mrs. Mills says that they were learning other things from Seton like "patience, discipline, and perseverance."
And there is the Felsheim family. They are really into musical creativity, and there is time in the schedule for it. The oldest of the four children, Elizabeth, says that a favorite "family activity" is when she and her two sisters, brother, and parents have a music night—complete with piano, guitar, violin,and singing! Elizabeth used Seton from kindergarten through twelfth grade and said that she "appreciated Seton's enriching Catholic curriculum" and the fact that homeschooling has helped to form a "strong bond" among family members.
The Adams, Mills and Felsheim families have different stories, which were featured in recent editions of Seton Magazine, but they have one thing in common—Seton Home Study School.
"Families are attracted to us in the first place because of our Catholic curriculum and Catholic textbooks," the director of Seton, Dr. Mary Kay Clark, told The Cardinal Newman Society in an interview on February 12.
The second reason is that Seton offers "flexibility" that allows for students to "work at their own pace, subject by subject."
Seton: Keep it Catholic
Seventy-six miles west of Washington, D.C., is a town with a population of just more than 14,000. Front Royal is found after weaving through the breathtaking beauty of the hills and valleys of northwest Virginia.
Situated at the confluence of the North and South forks of the Shenandoah River, the town is a hub of Catholicism. Just down the road is Newman Guide-recommended Christendom College and Human Life International. And there is Seton Home Study School, designed to assist with the homeschooling needs of Catholic families.
Seton offers a fully enrolled Catholic homeschooling curriculum for students in pre-kindergarten through twelfth grade, which is accredited by the Southern Association of Colleges and Schools (SACS) [Note: As of December 2019, Seton is accredited by Middle States Association of Colleges and Schools]. Seton also publishes Catholic textbooks, offers testing services, and has recently upgraded and expanded its monthly printed Seton Magazine to include an online presence at SetonMagazine.com. The website is designed to help in Seton's mission to "foster a community of Catholic homeschoolers."
Families who are enrolled in Seton are provided with daily lesson plans, which Dr. Clark emphasizes should be "adjusted to fit the need of the individual." Counselors for the various subjects and grade levels are available to answer questions from both students and parents.
In recent years, Seton has developed a wealth of online video tutorials that assist students in grasping some of the more difficult concepts, such as diagramming sentences. There are plans for additional video tutorials and online courses in the future.
Humble Beginnings
Seton Home Study had its beginnings in Catholic schools. In 1971, Dr. Clark founded a private Catholic elementary school, Mater Dei Academy, in Columbus, Ohio, where she served as principal. Dr. Clark began receiving calls from Catholic families around the country who wanted their children to receive a Catholic education like what students were receiving at Mater Dei.
She heard from many Catholic families who "felt that Catholic school textbooks were going in the wrong direction, or noticed that Catholic schools weren't using Catholic books at all."
At the same time, a woman named Mrs. Anne Carroll founded Seton Junior and Seton High School in Manassas, VA. This school also became nationally acclaimed for its strong Catholic identity and academic excellence. Mrs. Carroll was receiving the same type of inquiries from families that Dr. Clark was hearing—but it didn't work practically for families to always be able to move to Manassas or Columbus.
The solution? Seton Home Study School was founded.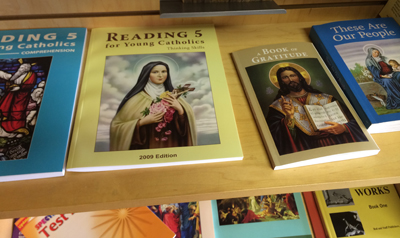 Dr. Clark and her husband, Bruce, and their seven sons moved to the east coast so that they could "keep the family together" as their sons began attending Christendom College, which was founded by Dr. Anne Carroll's husband Dr. Warren Carroll. Dr. Clark and Mrs. Anne Carroll had been in contact for years—and with the two in the same part of the country, Seton Home Study became a reality.
Dr. Clark immediately "started hiring people to write more Catholic textbooks" and Seton "grew so fast we couldn't believe it."
Originally occupying a single room at Seton School in Manassas, Va.,the current Seton Home Study facility now utilizes 35,000 square feet and serves more than 12,000 students.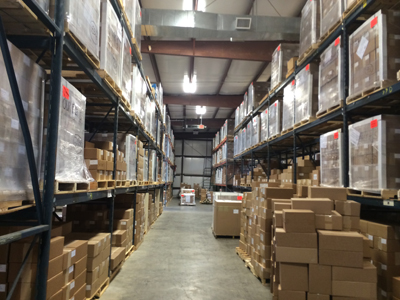 Faith Front and Center
Paintings of Catholic saints and Bible stories lines the hallways of Seton's headquarters. In Dr. Clark's office, countless cards from grateful Catholic families cover the walls. On the first floor, there is a small, but beautiful chapel where Mass is celebrated every day for employees.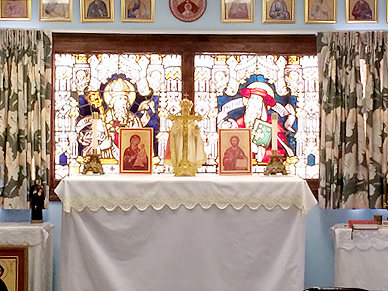 "Prayer life is so important for our families and for Seton itself. That's why we pray every day," said Dr. Clark, noting that they offer up the Angelus for the intentions of families who are enrolled in Seton.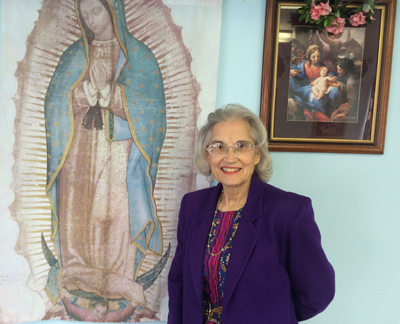 This Catholic atmosphere is infused into Seton's curriculum. Stories about "Catholic family life" are incorporated into textbooks whenever possible. For example, a Seton student might read about a Catholic family going to hear a Bishop speak at a Confirmation in his or her vocabulary book.
"These events are a part of [the Catholic family's] everyday experience, and we back that up with our textbooks," said Dr. Clark. "I think it helps the Catholic family to have that kind of support—not only for their faith, but also the kind of life they want to lead as a family."
Seton has deviated from what has become the norm in Catholic education by striving to make every textbook Catholic. This makes a "huge difference" in a student's formation, according to Dr. Clark.
Rather than learning new spelling words through meaningless sentences, Seton students read Bible stories or stories about the Saints that incorporate the spelling words. When students study history, they find out about influential Catholics—and how they changed the course of history for the better or worse.
Bruce Clark, who is the head of the History department, said "we teach reality—we're not revisionists." The Clarks are a testament to Seton's success—they have 7 sons who have all remained devout Catholics. They also have 35 grandchildren, with another on the way, who are all homeschooled with Seton.
"For the Catholic family, evangelization begins in the home with the children," Seton's website states. "The Mission of Seton Home Study School is to help parents fulfill their mission to educate their children for eternal salvation, as well as to form good citizens in this world to influence others to live the Christian life."
Proved & Tested
"Everything we do has to pass the test to see if it's good for our families," said Jim Shanley, the Director of Communications for Seton.
One of the aspects of Seton that is "close to [his] heart" is its outreach to students with learning difficulties or attention problems. Seton has about 350 students enrolled in their Special Services Department.
"We try to keep them in the regular program as much as possible," said Shanley. Seton is committed to providing parents with an "individualized curriculum which works with the student's strengths in order to develop the weaker areas," according to Seton's website.
Tuition for Seton Home Study is a fraction of the cost of many Catholic schools. The cost corresponds with grade level, with the families of kindergarten students annually paying about $230 and the families of high school students spending just more than $700, which includes enrollment and all of the books needed for the year. There are also discounts for families with multiple children in the program.
"We believe that God blesses the families who make this choice because it's a big sacrifice for either a mother or father to not work," said Dr. Clark.
She stresses the importance of fathers being involved in their children's education.
"Dads teach theirs sons how to live as a Catholic man and teach their daughters what qualities to look for in a husband," she said. Homeschooling is "not just about teaching," it's also about forming "relationship" among family members.
"This is a mission. We're dedicated to what we're doing here," Dr. Clark said about Seton. "We're dedicated to our families. We believe that God will bless and has blessed Seton."