"…But will they get a good job?"
This is a question asked of many admission and career counselors by prospective students and parents, and it is a valid question to ask in our increasingly competitive and globalized world. At Christendom College, our answer is "YES!"
A liberal arts college education prepares students for a life of learning, and the pursuit of truth and wisdom. This will ultimately lead toward one's calling and vocation and a good job, but merely focusing on one's future career should not be the primary reason for attending a college or university.
At Christendom College, we do not limit our goals to the training of students for particular careers—giving them a skill set useful for only one path after graduation. Rather, we educate them in the liberal arts, which are universal in application, both inside and outside a chosen career.
The Value of the Liberal Arts
Through our time-tested and challenging Catholic liberal arts education—the same education that many of the greatest scientists, scholars, heroes, and saints over the past 2000 years have had—our students cultivate a new intellectual prowess in which they can take up any career and thrive with competence, grace, versatility, and success.
Our education gives our students the confidence they need to lead and to have a big-picture perspective on life, and provides them the practical skillset to do so. They have the ability to stay focused on Truth, while at the same time, think critically about issues, form opinions, and communicate clearly and persuasively.
For this very reason, no graduates are more eagerly sought in law, business, journalism, politics, teaching, or other professions than the graduates of traditional liberal arts colleges such as Christendom.
Advertisement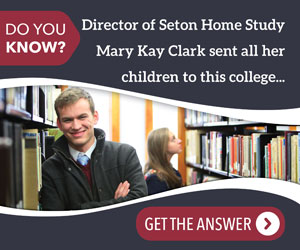 In Pursuit of Success
The theory and knowledge gained in the classroom is reinforced and utilized through practical application at the Career and Leadership Development office. There, we do a great job of helping our students hone their God-given talents and assist them in achieving their post-graduation goals.
As a graduate of the college, and a former Seton Home Study student, I have been fortunate to experience many varied jobs and opportunities. I have been successful in the sales field in California, as a wrangler on a Colorado ranch, in teaching K-12 at the Catholic schools of the Arlington diocese, and now, finally, as the Director of Career and Leadership Development at Christendom College.
I am also nearing the completion of my doctoral program in Catholic Educational Leadership, and it is through these many varied experiences that I am able to provide resources, networking opportunities and guidance to help our students with their personal, career, and vocational objectives.
We have a variety of unique resources that help our students excel after graduation through skill attainment that complements their challenging liberal arts education. A few of these resources focus on best practice and knowledge about interviewing, job hunting, and resume writing.
A Unique Obligation
Interwoven throughout these workshops and print resources for the students is a focus on the central theme of their unique obligation to serve others post-graduation as leaders in their church and community. To this end, we also host workshops and talks concerning leadership in the workplace, financial literacy, and utilizing or starting extracurricular clubs and organizations on campus.
An advantage we have as a small, dynamic college is that we meet with each student individually, as often as needed, to create an action plan as they strive for excellence and seek greatness. For students interested in internships, both locally and in nearby Washington, DC, we connect them with alumni, friends, and local business leaders to ensure they get the experience necessary to prepare them for the best jobs post-graduation.
Interested in Graduate school? We provide online and in-class GRE test preparation and GRE test enrollment—all paid for by us! This access to unique opportunities gives students a better insight into various fields of employment, and expands their network by connecting them to the right people.
From high ranking military officials and civilian technology consultants, to executive directors of medical consulting companies and nurses and doctors, to exceptional teachers and journalists, Christendom College alumni find success in every field. As mentors to our students, many come back to campus frequently to speak about finding the path to success in their particular field of employment.
Ultimately, you have an opportunity to be a part of a faith-based learning community centered on Truth, while studying the great Canon of Western Civilization, and utilizing the timeless education of the liberal arts. If you desire to be successful in life, both personally and professionally, Christendom will provide you with a rigorous education, which broadens your worldview, enhances your communication and critical thinking skills, and provides extracurricular opportunities which will enable you to be an active leader bringing others to Christ.
Not only will you be forged into a leader that pursues the Good, the True and the Beautiful, but you will graduate with the confidence that your liberal arts education has prepared you exceptionally well for your future job, career, and vocation.
As I tell the student here: advance always.