Summary
Tom McFadden says look at the alumni to judge a college on effectiveness and faithfulness to mission. At Christendom College, those results are remarkable.

Come to Christendom. Go to Heaven. Guaranteed!
Does it sound a little too good to be true? Well, to be honest, it's one of the many Christendom College marketing taglines that has not made the cut.
Others were, "Jesus Lives Here – Maybe You Should Too!" and then there was one of my all-time favorites, "Heaven. Front Royal, Virginia." We ended up changing it to "Almost Heaven," which brought up some happy thoughts of John Denver, the Blue Ridge Mountains, and the Shenandoah River.
I think people liked it, or "almost" liked it.
Catholic families today are taking drastic measures to ensure that the faith of their children can flourish. Homeschooling is on the rise and many people are founding independent schools to make sure that the Catholicism taught there and the teachers on staff are faithful to the Magisterium.
Families encourage their children to join youth groups and go on retreats. They send them to places like Catholic Family Land, Franciscan University youth conferences, or the Experience Christendom Summer Program.
Parents are worried about their children, and the salvation of their souls. And rightly so. There are so many opportunities to go off the deep end nowadays. Pornography and immoral sexual activities, social media and gossip, immodesty and disrespect for those of the opposite sex, movies and music full of filth.
It's really hard to stay on track, even if you are homeschooling or sending your kids to good Catholic schools because the popular secular culture is doing its very best to suck your children into it. And it is very hard to fight!
Talk to any adult you know and they will go on and on about the number of family members and friends who have lost the faith, or are in bad marriages or divorced. They will tell you about all the misery that goes with wandering off the path of salvation and the sadness in their voice is heartbreaking.
Advertisement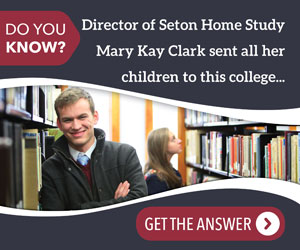 And the most disturbing part about all of this is that 80% of those who leave the Faith do so between the ages of 18-23 – during the college years – and many parents are actually helping fund this loss of Faith. They spent so much time, money, and effort in the early years to help their children grow in the Faith, and then, all of a sudden, it's time for college, and everything they worked for goes down the drain. So sad. These parents seem to think that they must let their children choose a college of their choice – regardless of the toxic climate on the campus. Again, so sad.
In 1977, after Dr. Warren Carroll witnessed the wreckage that was happening in Catholic higher education in the late 60s and 70s, where many of the great Catholic institutions were choosing so-called academic freedom over the Magisterium, he decided to found a college that would give hope to families, and help them in their quest to help their children get to Heaven. He would institute a curriculum that would build on the fine, Catholic foundation laid by parents.
It would be a time-tested curriculum, worthy of the greatest men and women of all of Christendom. It would have student life policies that are family-friendly, yet at the same time, allow students to grow and mature as faithful members of the Church. It would be a personal education, where students are known by name and cannot slip through the cracks. And it would have ample opportunities for the celebration of the sacraments, so necessary in today's world.
And so, Christendom College was born. And one of the best ways to judge a college and its effectiveness and faithfulness to its mission is to look to its alumni.
After all, the alumni are the products, and if a college claims that it is going to give its students a top-class liberal arts education, enabling them to go on to any career field they wish and excel in it, while immersing them in a Catholic culture so that they can go out into the world to restore all things in Christ, then we need to find out if any of this is actually happening.
Christendom has close to 2000 BA earning graduates amongst its alumni. Believe it or not, I personally know almost all of these 2000 alumni (I've been working here for 16 years, and attended the college in the early days). I know their names, where they live, what they do, who they are married to, what religious order they are in, and all that other important information. I generally know if they went to grad school, and if so, where and what they studied.
I know through the grapevine and through surveys whether people are happy with their education from Christendom and I also generally know when alumni get divorced, die, or leave the Faith. Yes, I said, leave the Faith – people still have free will, even if they've earned a BA from Christendom!
And here are the alumni statistics that tell me that Christendom College is doing what it says it wants to do, and these statistics are the reason why so many families (including my own) send child after child to Christendom because they see it as an investment in the children's futures – both now and in eternity.
Well-educated, employed in every career field
Very happy that they attended Christendom
Still practicing Catholics (Maybe 10-20 out of 2000 have left the faith)
Good solid marriages (416 alumni-alumni marriages, less than 10 divorces – loads of kids!!)
Many vocations to religious life (79 priests, 51 sisters, 23 men currently in seminary)
First job out of college around $40,000 (Average income of US family is $54K)
Are part of the solution to today's problems in the culture
Rise up the corporate ladder very quickly and are financially successful
Are leaders, not followers, who are daring to be great in all that they do
Christendom College's entire educational experience was created by Dr. Carroll to be different than any other college experience out there – even different than other labeled "Newman Guide Schools."
Christendom was created to create leaders – Catholic leaders – who would be well-prepared to answer their call to greatness, and be counted amongst the few and the proud who would know the Faith, would be well-versed in literature, philosophy, history, and politics, and who would have spent four years immersed in a Catholic cultural environment like no other.
With this experience behind them, they would then be well-prepared to go out into the world and change the culture – to help re-Christianize it – as faithful, articulate, and committed Roman Catholics.
In the end, of course, there are no guarantees in life (other than death), so the concept of having a guaranteed salvation – although tantalizing – is just not possible, but at Christendom College, we can certainly say that we are doing what it takes to help our alumni achieve this goal – and we have the stats to back it up.
We are, after all, "Almost Heaven."